Curtis Michaud's Love of Sports and Commitment to Diversity Fuels His Career Ambitions
By Nora O'Neill, Journalism 2023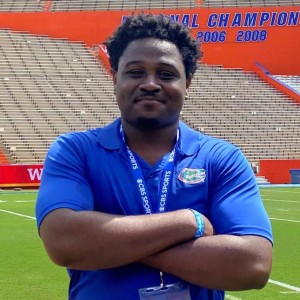 After only one year at UF, Curtis Michaud has already made a name for himself.
Michaud, a transfer from Broward College, in December 2021 became the first-ever recipient of the Edward Aschoff Memorial Fund Scholarship.
Aschoff, who received his B.S. in Journalism from CJC in 2008, was a college football reporter for ESPN. He died suddenly on Dec. 24, 2019, at the age of 34. The Edward Aschoff Memorial Scholarship Fund was created in his honor to support CJC students involved in sports journalism with a demonstrated background of commitment to advancing diversity, equity, and inclusion through activities with established organizations, volunteer work and academic pursuits.
Michaud, who was one of two students to receive the scholarship in 2021, is one young journalist following in his footsteps.
An aspiring sports reporter, Michaud says his love of sports is in his blood. In fact, he was named after Curtis Martin, a former running back for the New York Jets.
"My path to sports has been written for me since I was born."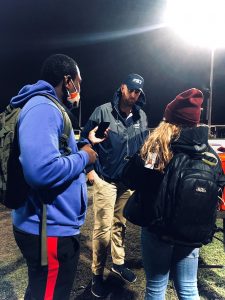 Michaud lives up to his name. In just one year, he has been a reporter for ThePrepZone and WUFT News, and he is currently a beat reporter covering men's and women's basketball for WRUF Sports Radio 850 in Gainesville, an ESPN station.
When he transferred to UF, he said the college immediately made a strong impression on him.
"The first day I went to the INC [Innovation News Center] I remember thinking, 'this is heaven,'" Michaud said. "I knew I made the right decision."
He originally wanted to attend Florida State University, but to this day, he said he feels confident in his choice.
"I've created so many relationships in the INC that I'll always cherish," Michaud said. "I met people who have the same dream that I do, and people who have different dreams, but they're cool people to talk to. Being at UF, they have a lot of resources."
He said his biggest piece of advice for aspiring high school journalists is to follow their dreams and stick to them. He said he has encountered many people telling him he won't make money or that journalism is a difficult field to break into, but Michaud said that only pushes him harder.
"I know some people pick a career because of the money, and then life is really miserable," he said. "I feel like with journalism, if you have a real love for it, the rest of your life will be easy as pie, because of that love."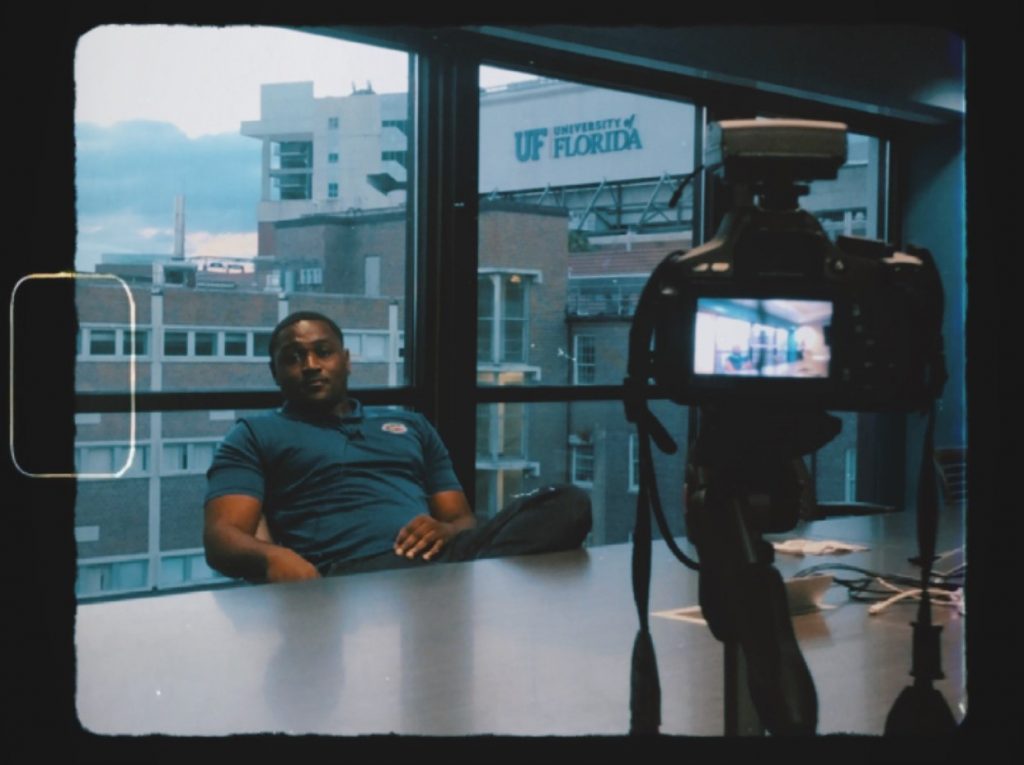 In addition to his love of sports journalism, Michaud has a mission to increase diversity in journalists covering sports other than football and basketball. "For a long time, I have been a fan of watching baseball, soccer, and NASCAR," he said. "As an African American, I noticed there isn't a large pool of journalists who have the same background as me covering those sports. I want make a mark in that area and show the next generation that sports like basketball and football aren't the only avenues to be successful in the journalism field. There are other sports and players that have very interesting stories to tell and it's our job to tell it for the world to see, you just have to look."
Michaud said he feels blessed to have won the Edward Aschoff Scholarship.
"This scholarship means a lot to me. To be chosen for an award named after a former Gator alum is an honor," he said. "Also, Edward Aschoff was known as a hardworking and inspirational person to many others in the field of journalism and sports. I would like to follow in his footsteps as he continues to impact the next generation of journalism with his legacy."
If you would like to donate to the Edward Aschoff Memorial Fund, visit https://www.uff.ufl.edu/giving-opportunities/025595-edward-aschoff-memorial-fund/
Posted: December 17, 2021
Category: College News, Profiles, Sports
Tagged as: Curtis Michaud, Edward Aschoff, Edward Aschoff Memorial Fund