Jay Hmielowski Co-Authors Article on Increasing Resistance to Persuasive Environmental Communication
University of Florida College of Journalism and Communications Public Relations Assistant Professor Jay Hmielowski is the co-author of "Are You Threatening Me? Identity Threat, Resistance to Persuasion, and Boomerang Effects in Environmental Communication" published in Environmental Communication on Nov. 25.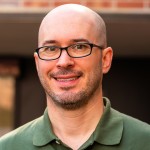 Hmielowski and Yanni Ma from Oregon State University examined resistance to persuasive messages in today's increasingly polarized political environment. They conducted three experiments to study the role of environmental identity threat as a trigger of defense mechanisms and boomerang effects, where a persuasive message produces attitude change in the direction opposite to that intended.
According to the authors, "In general, our study finds that identity threat from a message leads to increased psychological reactance, counter-arguing, and anxiety. There is also evidence that boomerang effects flow through identity threat and both counter-arguing and anxiety. Our results cast light upon designing persuasive messages to encourage individuals to engage in environmental behaviors without antagonizing them."
Posted: December 10, 2021
Category: College News
Tagged as: Jay Hmielowski