Frank LoMonte Authors Law Journal Article on Using Copyright Protections to Deny Public Records
Frank LoMonte, University of Florida College of Journalism and Communications Brechner Center for Freedom of Information director, is the author of "Copyright Versus the Right to Copy: The Civic Danger of Allowing Intellectual Property Law to Override State Freedom of Information Law" published in the Loyola University Chicago Law Journal Vol. 53 2021.
LoMonte looks at the growing danger that state and local governments may claim copyright protection as an excuse to withhold access to valuable GIS maps, databases and other public records that they aspire to license commercially.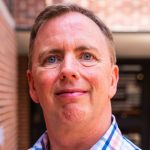 According to LoMonte, "The Article identifies the knotty jurisdictional problems that arise when a dispute over government records requires interpreting both copyright law (the exclusive province of federal courts) and state freedom-of-information law (the exclusive province of state courts), with the practical result that the delay and expense of parallel litigation will
be tantamount to denial of access for all but the most stubborn requester."
He adds, "Copyright should not be understood to impede inspecting and copying public records, because narrower exemptions for 'trade secrets' fully protect rights-holders' legitimate economic interests."
Posted: December 9, 2021
Category: Brechner Center, College News
Tagged as: Brechner Center for Freedom of Information, Frank LoMonte