Clay Calvert Comments on Popular Central Florida Law Enforcement Social Media Posts
Clay Calvert, director of the Marion B. Brechner First Amendment Project at the University of Florida College of Journalism and Communications, is quoted in "Orlando Social Media Stars: Florida Sheriffs Find Viral Fame, But Methods Not Without Critics" published in the Orlando Sentinel on April 19.
The article focuses on two Central Florida sheriff offices in Brevard and Polk Counties that have captured national attention for their social media posts and large number of followers.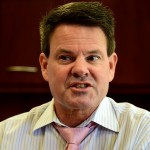 "Getting an inside look at policing isn't anything new, as journalist ride-alongs were once common," said Calvert. "Policing experienced through entertainment isn't new, either. Police have always looked for way to humanize its officers. That's a good thing. The show COPS was an effort to do that, which predates social media. It was a form of public relations."
Calvert points out that the outlook on COPS was skewed as the show never featured white collar crime and stereotyped Black people in a negative light. He worries that while social media is the current vehicle for positively portraying police activity, there is a skewed outlook specifically when it comes to making arrests.
"The language used in some posts regarding recent arrests can make it appear as though the arrested person may have already been convicted," Calvert said. "I think it's fair to say some people may not understand the difference between an arrest and a conviction. Many people may assume the person in those posts is guilty when it's actually an allegation. It needs to be clear that there's a difference between an arrest with probable cause and a person who has gone through a trial and is guilty beyond reasonable doubt."
Calvert cites an issue with Brevard County Sheriff Office's "Wheel of Fugitive" posts that label people as fugitives who had reportedly either served their sentence or were currently serving it. His concern is if the post is subject to civil liability.
"Very few people are liable proof," Calvert said. "Even people convicted of some crimes. A mass murderer has committed a pretty heinous crime and is generally speaking associated with a reputation so bad that it can't be harmed further. Most other convictions, there's still a reputation to protect."
Calvert said the "Wheel of Fugitive" disclaimer indicating that all suspects are considered innocent until proven guilty in a court of law may render any argument for defamation null and void, but the question then shifts from law to ethics.
"Is it ethical for the government to engage in deception to create positive public relations? I don't think so. That's an ethical issue," Calvert said. "It's important to show law enforcement in a positive light, especially today, as law enforcement officials see themselves under siege. Humanizing police is a good thing. The question is how to do it right and how much time and taxpayer dollars are getting put into it."
Posted: April 20, 2021
Category: College News, Digest Only, Marion B. Brechner First Amendment Project News
Tagged as: Clay Calvert, Marion B. Brechner First Amendment Project