Kasey Windels Receives Journal of Advertising National Recognition
Kasey Windels, University of Florida College of Journalism and Communications Advertising assistant professor, has received the top reviewer award and was selected as the runner-up for top article in the Journal of Advertising in 2020.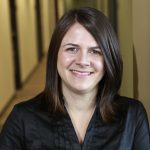 During 2020, Windels reviewed at least one version of six different manuscripts. She also reviewed several revisions of various manuscripts, for a total of 12 reviews during the year. The manuscripts featured topics including advertising agencies, agency-client relationships, creativity, and gender in the advertising agency.
Windels' top-article runner up was "Selling Feminism: How Female Empowerment Campaigns Employ Postfeminist Discourses," co-authored with Sara Champlin, Summer Shelton, Ph.D. 2020, Yvette Sterbenk and Maddison Poteet. A summary of that article is available here: https://www.jou.ufl.edu/insights/selling-feminism-how-female-empowerment-campaigns-employ-postfeminist-discourses/.
The Journal of Advertising is the premier academic publication covering significant intellectual development pertaining to advertising theories and their relationship with practice.
Posted: March 22, 2021
Category: College News
Tagged as: Journal of Advertising, Kasey Windels