Jay Hmielowski Co-Authors Article on Smart Meter Technology Perceptions
University of Florida College of Journalism and Communications Public Relations Assistant Professor Jay Hmielowski is the co-author of "Understanding Public Support for Smart Meters: Media Attention, Misperceptions and Knowledge" published in the Journal of Risk Research on Dec. 29.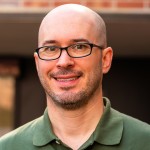 Hmielowski, Alex Kirkpatrick and Amanda Boyd studied literature on misinformation by exploring the relationship between media attention, risk perceptions, knowledge of, and support for smart meter technology. Their results showed that paying attention to smart meter stories is related to familiarity with false information about smart meters.
A smart meter is an electronic device that records consumption of electricity, gas or water and communicates that information to utility companies automatically.
According to the authors, "Familiarity with false information is also associated with misperceiving risks regarding the technology (e.g. those who are aware of false information about health problems associated with smart meters are more concerned about health-related problems associated with this technology). Ultimately, reporting higher levels of concern about smart meters is associated with lower support for government and industry policies aimed at increasing smart meter installation. Results indicate that knowledge may be a protective factor in terms of mitigating the effects that misinformation could have on outcomes such as support for policies or technological de
Posted: January 5, 2021
Category: College News
Tagged as: Jay Hmielowski