Roxane Coche and Benjamin Lynn Co-Author Article on Broadcast Sports Production During the COVID-19 Pandemic
Roxane Coche, University of Florida College of Journalism and Communications Sports Journalism and Communication associate director and Telecommunication assistant professor, and doctoral student Benjamin Lynn are the co-authors of "Behind the Scenes: COVID-19 Consequences on Broadcast Sports Production" to be published in the upcoming edition of International Journal of Sport Communication.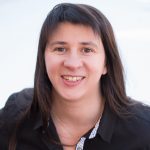 Coche and Lynn examine the shift from on-site television production crews to a new production model allowing technical crews to be at a remote site for live sporting events. Remote integration model productions have been implemented around the world and across all forms of sports broadcasting, following a push for economic efficiency.
According to the authors, "This manuscript is a commentary on the effects of the COVID-19 global crisis on sports productions, with a focus on remote integration model productions. More specifically, the authors argue that the number of remote sports productions will grow exponentially faster, due to the pandemic, than they would have under normal economic circumstances. The consequences on sport media education and research are further discussed, and a call for much needed practice-based sports production research is made."
Posted: August 27, 2020
Category: College News
Tagged as: Benjamin Lynn, Roxane Coche