Benjamin Johnson Co-Authors Article on How Partisan Book Ratings Impact Consumer Decisions
Benjamin Johnson, University of Florida College of Journalism and Communications Advertising assistant professor, is the co-author of "Online Products and Consumers: Partisan Ratings and Mechanisms for Affective Polarization" published in Telematics and Informatics on July 19.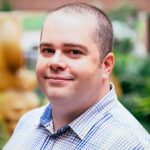 Johnson and Rachel Neo from the University of Hawaii at Manoa conducted two experiments about political books on Amazon.com to determine if star ratings play major roles in informing consumer decisions on major e-commerce sites. They analyzed the star ratings received by left-wing and right-wing books and the affect they can have on making Republicans and Democrats feel more negative toward the "other side" or more positive toward their own party.
They found that people see ratings they disagree with as more likely to be manipulated by the other side, and ratings they agree with as more likely to be submitted by "prototypical" members of their own side. These beliefs were connected to feelings of affective polarization (intense feelings about the political parties). Their findings challenge assumptions that affective polarization is solely characterized by negative out-party affect and are driven mainly by exposure to counter-attitudinal information.
Posted: August 11, 2020
Category: College News, Trust Consortium
Tagged as: Benjamin Johnson