Benjamin Johnson Selected as a Special Issue Editor for Psychology of Popular Media Journal
Benjamin Johnson, University of Florida College of Journalism and Communications Advertising assistant professor, was selected as one of three special issue editors for "This is (Not) Fine," an upcoming special issue of Psychology of Popular Media.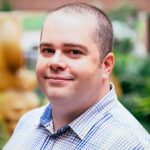 The special issue will curate research on the collision of current crises and popular entertainment. Johnson, Elizabeth Cohen, Omotayo Banjo, and Arienne Ferchaud, will review research on how current social crises including the COVID-19 pandemic, Black Lives Matter protests and the 2020 election, are affecting the way media content is produced and the ways in which people use and are influenced by media during crises.
Psychology of Popular Media is a peer-reviewed scholarly journal dedicated to publishing empirical research concerning the psychological experience and effects of human interaction with popular media in all of its forms including social media, games, apps, and fictional narratives in all of their forms (e.g., film, television, books).
Posted: July 21, 2020
Category: College News, Trust Consortium
Tagged as: Benjamin Johnson