Jay Hmielowski Co-Authors Article on Media Use, Race and the Environment
University of Florida College of Journalism and Communications Public Relations Assistant Professor Jay Hmielowski is the co-author of "Media Use, Race, and the Environment: The Converging of Environmental Attitudes Based on Self-Reported News Use" published in Environmental Values July 2020 edition.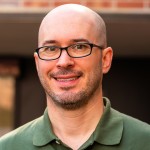 Hmielowski and Troy Elias from the University of Oregon studied the relationship between self-reported news media consumption and environmental behavioral intentions to understand why people of various races and ethnicities are (or are not) engaged with the issue of climate change.
Their results found significant correlations between self-reported use of non-conservative news media consumption and all three of their theory of planned behavior outcomes (environmental attitudes, subjective norms and perceived behavioral control.) They also indicate conditional indirect relationships between non-conservative news use on behavioral intentions vary by race and ethnicity.
Posted: July 7, 2020
Category: College News, Science Communication News, Trust News
Tagged as: Jay Hmielowski