Debbie Treise Named American Academy of Advertising Executive Director
Debbie Treise, University of Florida College of Journalism and Communications (UFCJC) Advertising professor and former senior associate dean for Graduate Studies and Research, is the new Executive Director of the American Academy of Advertising (AAA).
In her new leadership position, Treise will work with AAA officers and contractors and will serve as a non-voting member of the AAA Executive Committee.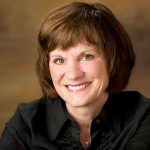 AAA fosters research that is relevant to the field and provides a forum for the exchange of ideas among its academic and professional members. Through the Journal of Advertising (where Treise is an associate editor), the Journal of Current Issues and Research in Advertising, the Journal of Interactive Advertising and the annual conference Proceedings, the Academy disseminates research findings and scholarly contributions to advertising education and the profession.
Treise, who has taught at UFCJC for more than 30 years, had been associate dean and then senior associate dean of the Graduate Studies and Research Division since 2003, before stepping down in fall of 2019. In addition to her Advertising faculty position, she serves as track chair for the Health and Science Communication Master's Track at UF. She maintains an active research agenda that centers on the intersection of health and science communication and consumer behavior and has received numerous awards for her research including a UF Research Faculty Fellowship, NASA Fellowship and the Flanagan Professorship in the College.
She has published numerous journal articles in the Journal of Advertising, Journalism and Mass Communication Educator, Health Communication, Journal of the National Medical Association, Public Understanding of Science and Science Communication.
During her academic career, Treise has received more than $1.2 million in grants from NASA and was chosen as UF's Outstanding Doctoral Mentor in 2020. She has also served as AAA past president and secretary.
Posted: July 7, 2020
Category: College News
Tagged as: American Academy of Advertising, Debbie Treise