Juliana Fernandes Awarded $83,000 in UF Research Competition
University of Florida College of Journalism and Communications Advertising Assistant Professor Juliana Fernandes has won an $83,000 UF 2020 Research Opportunity Seed Fund Competition award to explore how to detect and address influence tactics in online propaganda.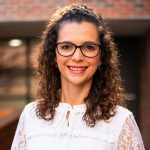 The proposal by Fernandes and Wertheim College of Engineering Associate Professor Daniela Oliveira was one of 49 submitted and one of 17 awarded. The project was funded for two-years, beginning July 15, 2020.
Fernandes and Oliveira's project seeks to mitigate the spread of propaganda and misinformation online through the development of a machine learning-based framework and a tool to detect influence tactics in online text backed by empirical user-studies.
The Research Opportunity Seed Fund, sponsored by the University of Florida Office of Research, is an annual seed grant program that targets interdisciplinary, faculty-initiated research projects with potential for extramural support. The program focuses on new projects and/or new collaborative partnerships.
Posted: June 30, 2020
Category: College News
Tagged as: AI, Juliana Fernandes, Machine-learning, Misinformation