Frank LoMonte Comments on Alleged Pinellas County Sunshine Law Violation
Frank LoMonte, University of Florida College of Journalism and Communications Brechner Center for Freedom of Information director, was quoted in "A Clearwater Law Firm and a Pinellas Retiree Spar Again Over Public Records" published in the Tampa Bay Times on June 1.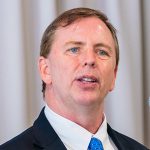 The article focuses on Madeira Beach retiree Bill Gay's challenges to government transparency in Dunedin, Florida. His latest suit alleges that Dunedin officials violated Florida's Sunshine Law when they settled a legal dispute with a resident without a public meeting.
According to LoMonte, while decisions can be delegated to a city manager without the need for a vote by elected officials, the question is about the limit of that spending. Dunedin's charter does not specify an amount the city manager can spend on legal settlements.
"Could the city manager unilaterally write a $10 million check out of the treasury? Surely not," LoMonte said. "At some point, there would be both an audit issue and an open-meetings issue if the city manager was delegated limitless spending authority."
Posted: June 3, 2020
Category: College News
Tagged as: Brechner Center for Freedom of Information, Frank LoMonte