Juliana Fernandes Selected as Guest Editor of Upcoming JAE Special Issue
Juliana Fernandes, University of Florida College of Journalism and Communications Advertising assistant professor, is a guest editor for the Journal of Advertising Education (JAE) Special Issue: Cases in International and Multicultural Advertising, Vol. 23(2) 2019.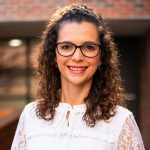 JAE solicited teaching cases for this upcoming special issue. A teaching case "encourages discussion and investigation and is always accompanied by an instructors' manual to guide the user in leading the case in the classroom."
Fernandes will serve as one of two guest editors that will review the manuscript submissions.
Posted: November 5, 2019
Category: College News
Tagged as: Juliana Fernandes