Robyn Goodman Authors Article on Cosmetic Surgery Provider Website Content
Robyn Goodman, University of Florida College of Journalism and Communications Advertising Department interim chair and associate professor, is the author of "Let the Buyer Beware: Content Analysis of Cosmetic Surgery Websites' Provider Information" published in Public Understanding of Science on June 4.
In the article, Goodman reports on a study focusing on what types of physician information cosmetic surgery websites supply. She found that consumers often search for providers online and cosmetic surgery websites have the potential to be a threat to consumers' safety and health.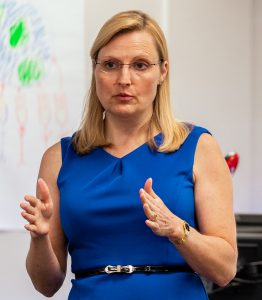 Her study examined cosmetic surgery websites in the top ten cosmetic surgery cities. She found that members of plastic surgery associations and core providers were more likely to list medical qualifications and all physicians were unlikely to list experience. Two-thirds stated their specific board certification and 15 to 30 percent in each city failed to follow their state's regulations for disclosing board certification. The study concludes by suggesting national ethical guidelines.
Posted: June 6, 2019
Category: College News
Tagged as: Robyn Goodman