Roxane Coche Appointed Associate Director of Sports Journalism and Communication
Roxane Coche, University of Florida College of Journalism and Communications Telecommunication assistant professor, has been appointed associate director of Sports Journalism and Communication effective August 2019.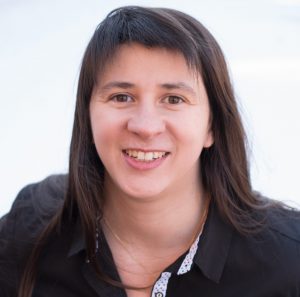 The Sports Journalism and Communication program, under the direction of Eric Esterline, offers students classes to acquire the skills necessary to succeed in the evolving sports media industry. Coche will work with Esterline to initiate outreach, networking and internship opportunities with alumni and other stakeholders in sports media. Coche will also advise students interested in sports media opportunities and has recently taken on the faculty advisory role for the Association for Women in Sports Media student group.
Together, Coche and Esterline were recently awarded an Internationalizing the Curriculum grant from the UF International Center. They are currently developing a course around sports media and soccer titled Communicating Soccer Globally for the International Scholars Program.
Coche joined the College in fall 2018 and is the recent recipient of a UF Office of Teaching Excellence Rising Star Award recognizing faculty for their commitment to ongoing educational improvements and excellence. She began her career as a freelance sports reporter and producer in Paris. She worked on major events such as the 2008 Soccer European Championship, 33rd America's Cup and 2010 Olympic Games, 2008 U.S. Open and 2010 Australian Open and covered the 2014 FIFA World Cup in Brazil.
In her first year at CJC, Coche taught classes in Sports Reporting and Introduction to Sports Production.
Before coming to UF in 2018, Coche had been an assistant professor in the Department of Journalism and Strategic Media at the University of Memphis. She received her Ph.D. in Mass Communication at the University of North Carolina in 2013, Master's in English and American Civilization at Universite Paris III – Sorbonne Nouvel​le in 2009 and Master's in Bi-lingual Journalism (French and English) from that same institution in 2008.  She earned her bachelor's degree in English -Language Literature and English-Speaking Civilizations from the Institut d'anglais de Paris Charles V – Université Paris VII. She also has a diploma in senior journalism studies the École Supérieure de Journalisme (Superior School of Journalism) of Paris.
Posted: June 4, 2019
Category: College News
Tagged as: Eric Esterline, Roxane Coche, Sports Journalism and Communication