Benjamin Johnson's Research Cited in Article on Big Data and the Coolness Factor
Research by Benjamin Johnson, University of Florida College of Journalism and Communications Advertising assistant professor, was cited in "At the Crossroads of Big Data and Cool," published in the Las Cruces Sun News on Dec. 20.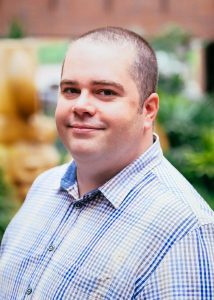 Johnson's study, "Click Here to Look Clever: Self-Presentation Via Selective Sharing of Music and Film on Social Media," published in Computers in Human Behavior, Volume 82, May 2018, showed that people feel that sharing mass media consumption can make them look cooler. His study confirmed the existence of the "actual-self motive" which might drive someone to share a guilty pleasure and potentially offer insight into who they are.
In the article, Johnson also offered a suggestion for digital music service Spotify to avoid the creepiness factor that some of their users encounter. He says that this can be thwarted if the service gives users more control of how their data is used and shared across platforms.
Posted: January 4, 2019
Category: College News
Tagged as: Benjamin Johnson