Former CJC Dean John Wright Announces Retirement
(For news about Senior Associate Dean Debbie Treise stepping down from her position, go to: https://www.jou.ufl.edu/2019/01/16/debbie-treise-to-step-down-as-graduate-studies-and-research-senior-associate-dean-in-august-2019/) 
The University of Florida College of Journalism and Communications (CJC) today announced that former Dean John Wright would be retiring from teaching after 36 years at the College.
Following is a message from Dean Diane McFarlin to faculty and staff:
John Wright's decision to retire comes after a brilliant academic career as a leader and innovator at CJC.
During his 36 years at UF, John has served as dean, executive associate dean, associate dean for graduate studies, graduate coordinator and interim department chair — the only person to have served in all of these roles at CJC.
John arrived at UF in Fall 1982 as an associate professor. He quickly emerged as a leader and was among the small group of graduate faculty members who designed and founded the College's now prestigious doctoral program in the 1980s.
He is currently Professor in the Department of Telecommunication and Director of Sports Journalism and Communications for the College. John, working with [Journalism Department Chair] Ted Spiker, designed the increasingly popular Sports and Media specialization.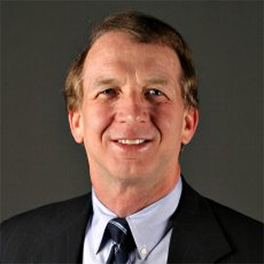 He was dean of the College from 2007-2012 and served as interim dean in 2007. During his term as dean, he advanced a number of critical and lasting initiatives. He moved the College firmly into the digital era, and he proposed and oversaw planning and development of a cornerstone of the College, the Innovation News Center. John, working with [Division of Media Properties Executive Director] Randy Wright, reorganized and unified management of the College's media properties and made critical changes in station formats, making the stations financially sustainable and significantly enhancing professional development opportunities for students.
Also on his watch, the College began its partnership with the University Athletic Association, moving GatorVision headquarters into Weimer Hall. He opened the College's Research Lab and the AHA! CoLab for strategic communication. The Marion B. Brechner First Amendment Project was founded during his deanship, and it was during his tenure as dean that the College launched its first online master's programs.  Working with two students, he initiated and launched WUFT Noticias, the College's first Spanish-language newscast. And through his genuine care for students and their opinions, he created the Dean's Student Advisory Council.
John has taught too many graduate and undergraduate courses in the College to list, but they include Law of Mass Communication, Research Methods in Mass Communication, Mass Communication Theory, Mass Communication and Society, Telecommunication Research, Radio News, Multimedia Sports Journalism, Media Regulatory Policy, Sports Podcasting, and several doctoral seminars. He also has chaired and served on numerous doctoral and master's committees.
The College has recognized his excellence in the classroom, awarding him "Teacher of the Year" honors three times. He also has been named winner of the Professorial Excellence Award, a Teaching Incentive Award and the Faculty Research Award.  He has coauthored three books and has published in scholarly journals in the field of mass communication, including several articles focusing on credibility of witnesses in courtroom proceedings.
Before becoming an academic, John had several years of experience in broadcast media, working as a news and sports reporter, news director, program director, production manager, music director and disc jockey. He is himself a talented musician and notable Beatles aficionado.
He received his Ph.D. in Mass Communication from Ohio State University and his B.A. and M.A. degrees from the University of Central Florida.
Finally, and perhaps more important than his academic achievements, John is beloved by students and alumni, and it is abundantly clear how much he is appreciated by colleagues in the College and across campus. On a personal note, I will always be grateful to him for helping me prepare for my transition from the private sector to the dean's office. He has continued to provide wise counsel and support.
Posted: November 15, 2018
Category: College News
Tagged as: John Wright