STUDENT: Chris Cantrell Rises to Elite Ranks of Esports League
By William Clewis, B.S. Journalism 2020
Senior Journalism Major Christopher Cantrell is looking forward to playing for the Los Angeles Lakers in the 2019 season. He never played high school basketball. He never played for the Gator basketball team.  Instead, he earned his way to the big leagues through dexterity, quick thinking and a gaming console.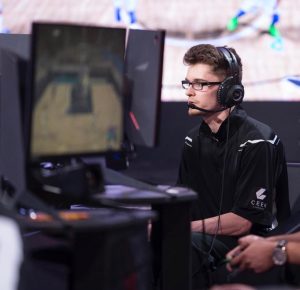 Cantrell, who goes by the gaming name Kontrul, is part of the exploding industry of professional esports.  This past year, Cantrell was drafted eighth overall by Magic Gaming, the esports arm of the Orlando Magic, in the inaugural season for NBA 2K, a hugely popular basketball video game.  In September, he was picked fifth by Lakers Gaming in the league's expansion draft for the 2019 season.
Cantrell's rise to professional gaming started at a young age. At age 3, he started with Pokémon on his Game Boy Color and moved on to a Nintendo 64, playing Super Smash Brothers and other games. Next, as a teenager, it was first-person shooter games like Halo.
Eventually, Cantrell began playing sport video games during his high school years, starting with Madden NFL, then NBA 2K and FIFA, a soccer game. It was with NBA 2K, though, that he started playing competitively, particularly when the NBA 2K14 version was released.
"I just wanted to be the best at the game for some reason, and I would go online and compete in tournaments," Cantrell said.
Though he was terrible at first and had little knowledge about the game of basketball, he began watching videos on YouTube and live games on TV to improve his skills.
"I started just embracing every part of basketball and implemented it into the skill I had in a video game, and that's how I became so good at it," he said.
Cantrell said he didn't play competitive sports and wasn't the most athletic guy growing up, but he still had a love of sports. "I wanted to find a way to really dive into it and express the knowledge I have for the game as well as the skill with video games," he said.
His path to becoming a professional began in January 2018, when he took the first steps toward having the opportunity to be drafted.
First, players had to win 50 games in either the Pro-Am or Walk-on Pro-Am modes. He did just that and moved onto the next stage.
In order to be qualified to get looked at by the league, players had to compete in at least 40 games in combine mode in February and then submit an application. He also did that and advanced to the next round.
Out of 72,000 players, the league handpicked 250 and interviewed each person. That field of players was then narrowed down to 102 people, who were then entered into the draft. He made the cut and was drafted in April as a point guard by Magic Gaming.
During his first season, the Magic's team of six was predicted to finish dead last in the standings. "I took that kind of personally, and I wanted to just give it my all and do whatever I could for the team," he said.
The Magic finished the season 8-6 and just missed out on earning the eighth seed in the playoffs.

Though he's in off season mode now, he described his experience in mid-season form and what part of his daily routine is like. During the day, he'll be at the Magic Gaming's practice facility from around 10 a.m. to 6 p.m., and the team also will meet with a personal trainer and have lunch during that time.
"You've got to really embrace what you do and just have some passion for it in some sense," he said. "I just enjoy playing the game. Everything else is cool, but I think the most important thing is just the game."
Weekends during the season include traveling to New York and competing in front of a live crowd. It's part of a schedule that includes one to two head-to-head matches per week totaling up to 14 games in the regular season.
When he's not focusing on his professional gaming career, he's working toward his degree in the sports and media specialization at CJC. While at UF, he has formed connections with faculty and immersed himself in the different courses and experiences offered here.
One of his favorite courses is Multimedia Sports Reporting with Telecommunication Professor John Wright, and, through that course, he's getting practical experience working at the College's ESPN 98.1 affiliate.
He's also enrolled in Sports Media and Society taught by Journalism Department Chair Ted Spiker. Spiker was the first person he went to about his desire to pursue an esports career. Spiker has given him advice about his classes while competing during the season.
"He was all for it and that's why I really appreciate Ted Spiker," he said. "He's always for new things."
With the growing popularity of esports, Cantrell would love to see the college add esports classes with around 50 to 80 students. There's a whole business side to the industry that people can learn about, and he thinks that's the greatest part about it.
The esports industry is projected to cross the billion-dollar threshold next year and could go beyond that mark in the next couple of years, according to a report in Forbes.
Cantrell said he has an idea of what he would want to do after his career as a professional gamer. He's been able to see players' perspectives as a gamer and is interested in coaching or managing a team or covering esports as a journalist or commentator in the future.
The skills gained in the CJC can translate into making an impact in the real world. "There are a bunch of skills that I learned so far at the University of Florida College of Journalism that I can implement into this sort of ride I'm on right now with the NBA 2K League."
Posted: November 13, 2018
Category: Profiles, Sports, Student Profiles
Tagged as: esports, video games