Carla Fisher Promoted to CJC Tenured Advertising Associate Professor
Carla Fisher, University of Florida College of Journalism and Communications Advertising assistant professor, has been awarded tenure and promoted to associate professor.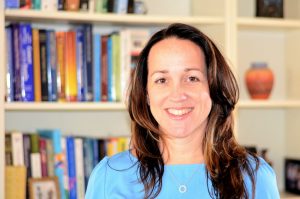 Fisher has been a faculty member for 10 years, including the past two academic years at CJC. Since joining the College, Fisher has published eight peer-reviewed articles, two abstracts, two book chapters and made 20 conference presentations.
She received the College's Faculty Research Award for 2017-18 and was part of a study team that won top honors at the UF Health Cancer Center Research Day both in 2017 and 2016. In 2017, she received the UF Excellence Award for Assistant Professors. Across her career, Fisher has received about $700,000 in grant funding, including an R21 grant from the NIH/NIEHS as part of its Breast Cancer and the Environment Research Program (BCERP).
Fisher has also been very active in mentoring students, chairing or serving as a committee member on 43 graduate student committees and receiving several awards for her mentoring of both undergraduate and graduate students.
At her previous institutions, Fisher created health communication minors/certificates. At UF, she developed the Advertising Department's first public health and social marketing approach to the Advertising Strategy course and launched an introductory course in health/science communication. Both classes will be part of a new translational health/science communication undergraduate certificate, which she is developing for the College.
In addition to her role at CJC, Fisher is an affiliate member of the UF Health Cancer Center and STEM Translational Communication Center, as well as affiliate faculty at the UF Center for Arts in Medicine Interdisciplinary Research Lab. She also serves on the Interdisciplinary Advisory Board at the UF College of the Arts Center for Arts in Medicine.
Posted: July 20, 2018
Category: College News
Tagged as: Advertising, Carla Fisher