ALUMNI: Alums Find Best Path to Law School is Through CJC
Three recent University of Florida College of Journalism and Communications (UFCJC) graduates have continued their studies by going to law school. Here are their stories, plus a few tips for anyone considering a legal career. 
 By Melissa Lutz Blouin
Lindsey Zionts, B.S. Telecommunication 2013
Partway through Lindsey Zionts Telecommunication degree, the mass communication law class caught her attention.
"I found myself interested in what was going on behind the scenes legally," she said.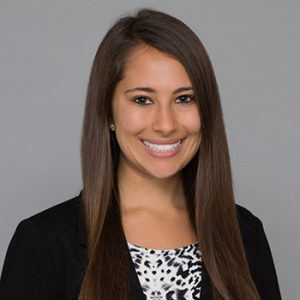 After taking the class, Zionts began doing research with Journalism Professor Clay Calvert, the UFCJC Brechner Eminent Scholar in Mass Communication and director of the Marion B. Brechner First Amendment Project. After working with her on research projects, Calvert suggested that she might want to consider going to law school.
"I didn't plan on going into law starting out," she said, even though her mother was an attorney. But as she learned more about law, she realized this path made sense for her.
"I liked that media law is something everyone can relate to," she said. "People learn news through using social media, reading news and watching television, so they have an interest in legal issues relating to these communication platforms."
Loaded with AP credits, Zionts sped through her time at UF, graduating summa cum laude after two years of class work. She entered the University of Pennsylvania School of Law in the fall of 2013 and graduated in 2016 after serving as senior editor of their Journal of Constitutional Law. She is now an associate in the litigation department of Ballard Spahr, LLP, based in Philadelphia, and her practice focuses on media law and intellectual property issues.
"My degree has helped not only in my writing, but in speaking with my clients and speaking with witnesses," Zionts said. At CJC, "you learn how to get people to talk about themselves and their stories. You learn to work with people in a way that gets them to respond to you. With some witnesses, you can be friendly while others want a more professional interaction. My experience interviewing people at the journalism school gave me practice and a lot of knowledge."
Olivia Vega, B.S. Journalism 2017
Olivia Vega knew she wanted to be a lawyer when she came to UF. The only thing she had to decide was what major would best help her attain that goal.
She chose the UFCJC because she wanted to major in something that would translate well and that she would enjoy.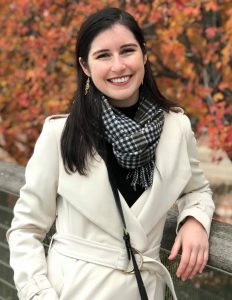 "I'm really grateful for all the opportunities I got in journalism school," Vega said. "It really prepared me for law school and I don't know if I would have made it this far without majoring in journalism."
Like Zionts, Vega enjoyed the mass communication law class and a friend suggested that she reach out to Calvert to get involved in research projects. As an undergraduate research fellow with the Marion B. Brechner First Amendment Project, Vega edited about a half-dozen law journal articles and conference papers for both clarity and substance.  Topics she worked on ranged from a U.S. Supreme Court case regarding the First Amendment and specialty license plates to a federal appellate court decision about the Freedom of Information Act and access to mug shots.
"I got to learn about law in a way that I hadn't before, and I found it fascinating," Vega said. She joined the undergraduate mock trial team and placed eighth in the 2017 national competition. She also served as communications chair for Kappa Kappa Psi, the, the musical band fraternity, and public relations officer for the University Marching Band.
Vega graduated summa cum laude and received a scholarship to the Pritzker School of Law at Northwestern University in Chicago. This summer, she's working as a legal intern for the Federal Communications Commission's Office of General Counsel in Washington, D.C.
The ability to write briefly, concisely and on deadline served Vega well in her first year of law school. She also cited her interviewing skills and ability to find the narrative in the story as aspects of her undergraduate major that help in learning law.
"Journalism makes you inquisitive. It makes you ask: 'Is this all the information? Am I telling this the right way? Is this the best way to make the case? What am I missing?'" she said.
"My favorite part of majoring in journalism was being exposed to things that I would otherwise have never known."
Marina Masterson, B.S. Public Relations 2018
Marina Masterson knew from the age of 11 that she wanted to be a lawyer.
"Before that, I wanted to be a marine biologist," Masterson explained. "But then I went swimming and saw hammerhead sharks, and after that I decided to be a lawyer."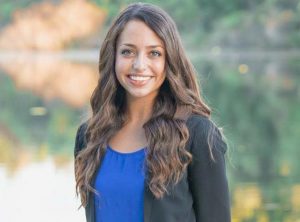 Masterson majored in public relations and history. When she first signed up for public relations, she thought it would be like business without the math. She didn't realize how creative and writing-intensive the major would be.
"The Public Relations major is excellent preparation for any career," she said. "The focus is on interdisciplinary education. No one is 'just' a PR major." She remembers her reporting class with Journalism Master Lecturer Mike Foley as being one of the most important classes during her time at UF.
"Every single word in your article had to have value," she said, making you think about the best way to communicate at all times.
She said she chose to pursue law because every story has different sides, and lawyers get to provide different perspectives on those facets. She has an interest in media law, inspired in part by the mass communication law class she took with Journalism Professor Sandra Chance, the McClatchy Professor in Freedom of Information.
Masterson graduated from the UF honors program in May 2018. She served as president of the UF Student Honors Organization and as an official UF student ambassador through Florida Cicerones. She has been accepted to the University of Pennsylvania School of Law as a dean's fellow, the highest scholarship offered by the school, and will begin classes in September.
"I don't think that would have happened if I hadn't been in the journalism school," she said.
Considering Law School? Know Before You Go
For journalism and communications majors interested in law as a career, here are some suggestions:
Develop core skills, knowledge, values and experience in areas including interviewing, writing, research, critical thinking, oral communication, listening, relationship-building, project management, public service, promotion of justice and time management.
Keep that GPA as high as you can. Be sure to set aside time and put the hours in to get good grades. "Law schools are looking at your GPA and it's weighted very heavily in the application process," Masterson said.
Become involved in organizations that can offer you real-world experience, such as the mock trial team or something else that interests you. Law schools seek students who stand out from the crowd in some way.
Get to know your professors. They can help you make connections, develop research projects and provide letters of recommendation down the road. Go to office hours and ask questions. Volunteer to work with them on research projects.
Think about what makes you stand out from tens of thousands of other students who have good grades. International travel, volunteer or paid work and organizational leadership can distinguish you from other law school applicants.
When applying to law school, don't rule out institutions in other states. Law schools seek diversity, including geographic diversity, and a school in California or New York may be a good fit.
Seek out a pre-law advisor who can offer helpful tips and suggestions. UF pre-law advisors can be contacted here: https://www.advising.ufl.edu/pre-law/
Posted: May 31, 2018
Category: Alumni Profiles, Profiles