FPREN Honored at Governor's Hurricane Conference
The Florida Public Radio Emergency Network (FPREN) received the 2018 Public Information Award at the 32nd Annual Governor's Hurricane Conference® Awards held in West Palm Beach. During the event, 14 individuals and organizations were honored for their various contributions towards hurricane preparedness, response, recovery and mitigation efforts at both the state and local level.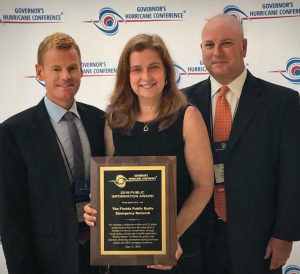 FPREN, housed in the WUFT-TV and FM studios in the University of Florida College of Journalism and Communications (UFCJC), is a collaboration of 13 public media stations that communicate emergency information statewide over the air, on television, through social media, and through the mobile app "Florida Storms."
Chief Meteorologist Jeff Huffman coordinated FPREN's efforts to inform the public with real-time, lifesaving information during the past hurricane season and other emergency situations.
Huffman, Meteorologist Cyndee O'Quinn and UFCJC Division of Media Properties Executive Director Randy Wright accepted the award on behalf of FPREN.
Posted: May 22, 2018
Category: College News
Tagged as: 32nd Annual Governor's Hurricane Conference, Cyndee O'Quinn, FPREN, Jeff Huffman, Randy Wright