Frank Waddell Honored by UF Graduate Student Council for Outstanding Service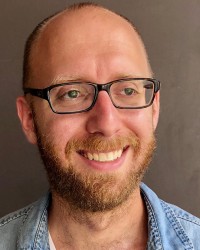 Frank Waddell, University of Florida College of Journalism and Communications Journalism assistant professor, was one of two recipients of UF's Outstanding Service by a Faculty Member on behalf of Graduate Students Award from the Graduate Student Council (GSC).
This testimonial from Waddell's research assistant, who graduated with an M.A. in English, is indicative of his impact on graduate students.
"After the first few days of class, I started to realize just how far behind my colleagues I was…. I felt like I didn't belong, and several of my professors echoed this concern. However, Frank is an exception. Quite simply, he is the reason I am still here today. I've never had a professor invest so much time and effort into ensuring that I succeed. …Dr. Waddell takes time out of his busy schedule to break down complex concepts in a way that not only makes sense, but that instills a desire in me to learn more. As a teacher, he has ability to provide just the right amount of structure yet grant his students the independence to problem solve on their own."
The GSC serves as a liaison between University of Florida graduate students, the UF administration and UF Student Government.  Funded by UF Student Government and, in part, by the UF Graduate School, the GSC is a voice for graduate student needs, concerns and ideas and provides services to graduate students.
Posted: April 27, 2017
Category: College News
Tagged as: Awards, Frank Waddell, Graduate Student Council, UF Outstanding Service by a Faculty Member