Assistant Professor Eunice Kim and Ph.D. Student Taylor Wen Honored at AAA Conference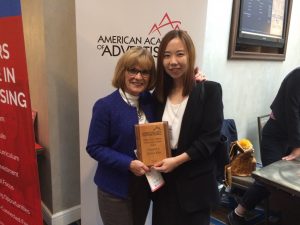 University of Florida College of Journalism and Communications Advertising Assistant Professor Eunice Kim received the Mary Alice Shaver Promising Professor Award from the American Academy of Advertising at the annual AAA conference in Boston.
The award honors a junior faculty member who has demonstrated excellence and innovation in advertising teaching and research. The award is given to full-time faculty and AAA members who have been teaching for no more than four years.
Ph.D. student Taylor Wen was honored at the conference with an AAA Doctoral Dissertation Competition grant.
The AAA is an organization of advertising scholars and professionals with an interest in advertising and advertising education. The Academy fosters research that is relevant to the field and provides a forum for the exchange of ideas among its academic and professional members.
Posted: March 28, 2017
Category: College News, Student News
Tagged as: AAA, American Academy of Advertising, Awards, Eunice Kim, Mary Alice Shaver Promising Professor Award, Taylor Wen