Janice Krieger Receives $3 Million Grant for Research to Help Increase Colorectcal Cancer Screening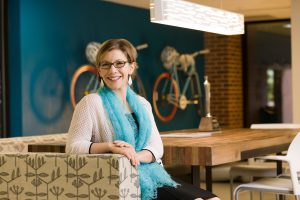 University of Florida STEM Translational Communication Center Director Janice Krieger and a team of researchers have been awarded a $3.04 million, five-year grant from the National Institutes of Health (NIH) to test the efficacy of using virtual technology to increase colorectal cancer screening among rural and minority patients.
This is one of the largest grants ever received by a College of Journalism and Communications faculty member.
The grant was awarded as part of NIH's Behavioral and Social Science Research on Understanding and Reducing Health Disparities program and funded by the National Cancer Institute.
Although colorectal cancer (CRC) is the second leading cause of cancer death in the U.S., there are significant screening disparities within the population that result in higher rates of CRC-related illness and death for minority and rural patients, particularly in the south. A primary goal of the U.S. Office of Disease Prevention and Health Promotion's Healthy People 2020 initiative is to increase by 80 percent the number of individuals screened for CRC across certain population segments.
The New York Times last year published "A Teachable Moment on the Need for Colon Cancer Screening" that effectively articulated the benefits of early screening.
The project, which will be conducted in Florida, will explore the impact of delivering personalized messages through a "virtual human" to increase CRC screening rates among minority and rural populations. It will include:
Focus groups and interviews segmented by geography, gender and ethnic background to develop and pilot test the use of a virtual human as a delivery mechanism for CRC screening information
A patient-randomized efficacy evaluation of the pilot test
A personalized booster message to examine the efficacy of the intervention for promoting repeat fecal immunochemical test (FIT) screening, a widely used test for colorectal cancer.
Krieger, the grants's primary investigator, launched the STEM Translational Communication Center in April 2016.  Located within UF's College of Journalism and Communications, the Center facilitates original research on STEM message design, dissemination and evaluation; offers services that enhance the ability of researchers to communicate more effectively with audiences outside the university; and fosters community interest and involvement in academic research.
The NIH grant team also includes University of Florida co-investigators Dr. Thomas George, Jr., medical director of the GI Oncology Program;  Dr. Benjamin Lok, professor, Department of Computer and Information Sciences and Engineering; Dr. Francois Modave, associate professor, Health Outcomes and Policy; Dr. Peter Carek, professor and chair in the Department of Community Health and Family Medicine; and Dr. Folakemi Odedina, professor and director of health disparities for the UF Health Cancer Center.
Co-investigators from North Carolina State University include Dr. Eric Laber, associate professor, Department of Statistics and Dr. Marie Davidian, William Neal Reynolds Professor, Department of Statistics.  Project consultants include Dr. Nicholas Carcioppolo, assistant professor, School of Communications at the University of Miami, Dr. Olveen Carrasquillo, professor and chief of the Division of General Internal Medicine at the University of Miami, and Dr. Electra Paskett, Marion N. Rowley professor of cancer research, Division of Cancer Prevention and Control at The Ohio State University.
Posted: January 31, 2017
Category: College News, STEM Center News
Tagged as: Janice Krieger, Research, STEM Translational Communication Center