John Wright Recognized as a "Top 10" Journalism Educator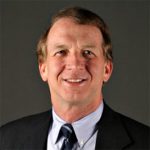 John Wright, University of Florida College of Journalism and Communications Telecommunication professor, director of Sports Media and Communication and current interim Public Relations chair, was cited in "10 Journalism Educators Who Made the Grade" in the January 2017 edition of Crain NewsPro.
With the premise that great journalists are taught by great teachers, Crain NewsPro asked readers and other media professionals to nominate an outstanding academician. The list of honorees includes professors, department chairs and directors of media centers from both large and small universities. During his tenure, Wright, former dean of the College, has taught graduate and undergraduate courses ranging from multimedia sports journalism and media law to mass communication theory and regulatory policy.
Posted: January 18, 2017
Category: College News
Tagged as: Crain NewsPro, John Wright