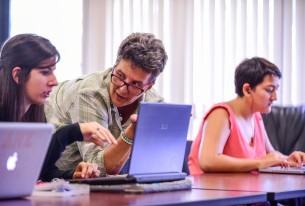 Mindy McAdams, University of Florida College of Journalism and Communications Journalism Professor and Knight Chair in Journalism Technologies and the Democratic Process, has been named to EducationShift's inaugural EducationShift20. This list honors journalism faculty at college and high school levels, as well as educators affiliated with various organizations, that have…
Read more
Posted: January 10, 2018
---
PBS MediaShift on October 5, 2015 published "Innovator Rafat Ali on Connecting the Unseen Dots in the Travel Business," a story by journalism senior Dahlia Ghabour about the recent Innovators Series visit by Skift CEO/Founder Rafat Ali. The story features photos and video by CJC Visual Coordinator Ryan Jones.
Read more
Posted: October 6, 2015
---
PBS MediaShift on September 29, 2015 published "How University of Florida Offers Lifelong Learning for Online Alums," an article by Associate Dean and Advertising Professor Mike Weigold.
Read more
Posted: September 29, 2015