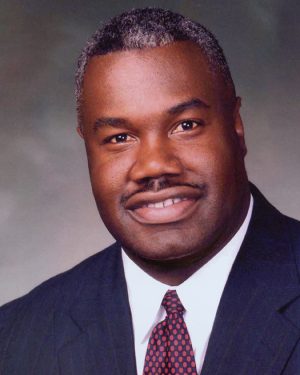 Keith Tribble
B.S. Public Relations, 1977
President and Chief Executive Officer, Jackson Health Foundation.
Formerly Athletic Director, University of Central Florida.
Hall of Fame 2007
Keith Tribble, PUR 1977, Twice in 2003, Sports Illustrated recognized Keith, then Chief Executive Officer of the Orange Bowl Committee, as one of the most respected figures in collegiate athletics. SI named him the No. 23 Most Influential Minority in Sports, only behind Notre Dame head football coach Tyrone Willingham. SI added in its 2003 College Football Preview that he was No. 12 among the 20 Most Powerful People in college football. He was named athletic director of UCF in June 2006, after spending 13 years at the forefront of NCAA athletics as the Orange Bowl Committee's CEO. He led the Miami-based organization through a period of transition and growth, including an increase from $500,000 to $8 million in gross annual sales. In May 2006, he was selected to receive the Black Coaches Association "Images of Excellence Award." The prestigious award is presented to those in the community who demonstrate a commitment by action to serve youth in the community. He was recognized in 2005 by Black Enterprise on its list of the "50 Most Powerful Blacks in Sports" and was a featured executive in SouthFloridaCEO. He has served as a trustee or board member of numerous organizations, including the American Cancer Society and the United Way of Miami-Dade County. He was honored with a University of Florida's Alumnus of Distinction Award for Dade County and was appointed to the Board of Directors of the Florida Sports Foundation by late Florida Governor Lawton Chiles.