Dr. Celeste Wagner
Assistant Professor, Department of Journalism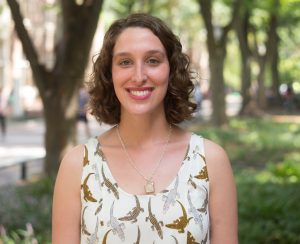 What are you teaching this semester?
This semester I'm teaching Media, Cultures and Identity.
What is your area of expertise?
I used mixed methods — mostly experiments, surveys and depth-interviews — to understand how the media impact public opinion around political and social issues. For the most part, I study the impact of representations around issues or gender, race, ethnicity and social class. My empirical focus has been on the United States and Argentina.
What research are you working on?
I'm working on a few exciting projects this semester on issues of political communication, global communication and gender. One is a study of how activists and social organizers respond to news media coverage about gender-based violence, and how they counter some of those mainstream representations, which I presented in October 2022 at the Global Fusion conference at Temple University. Another one is a paper on how U.S. publics respond to sexual harassment or assault scandals that involve Democratic and Republican politicians, which I recently presented at the American Political Science Association conference with my colleague Jin Woo Kim. With Dr. Kim, we are working on a paper on how U.S. public opinion responded to different gender-related decision-making processes around women's rights and gender equality since 2018. I'm also working on a mixed-methods book under contract with The MIT Press on misinformation reception during the Argentine 2019 elections with collelagues Eugenia Mitchelstein, Pablo J. Boczkowski and Facundo Suenzo. We are also writing a piece with several international scholars on global communication scholarship and pedagogy.
Significant other, children, pets?
My husband and I adopted our furry best friend in Philadelphia five years ago. He's a cat named Tilo, which is a tea we drink in Argentina that is supposed to be soothing. That's exactly what he brought to our lives.

What excites you most about coming to Gainesville?
Joining the CJC Gator community! I also really love outdoor biking and outdoor activities in general and Gainesville is an excellent spot for that. I'm also very happy to be at a warmer place and I'm looking forward to a nicer winter. I'm also excited about all the opportunities that Florida has to offer!
What accomplishments, personal or professional, are you most proud of?
Coming from Argentina, the idea of doing a Ph.D. in the U.S. felt like a dream for a long time, so having had the opportunity to do my Ph.D. in the U.S. with a scholarship has been one of my happiest accomplishments. I've wanted to be a university professor since I was a junior in college and getting a job as an assistant professor at one the best J-schools in the U.S. (and the world) is definitely the professional goal I'm most proud of.
What three things don't we know about you?
Besides Spanish and English, I am also conversational in Portuguese.
I love reading about cat science and I have a secret passion for human-cat communication research and anthro-zoology.
As a kid, I used to watch a lot of telenovelas after school with my brother and sister, while my parents worked, and for some time I thought (in a non-scary way) that everyone would eventually murder someone! It has been an important lesson on the role of the media in opinion formation.

Tagged as: Celeste Wagner