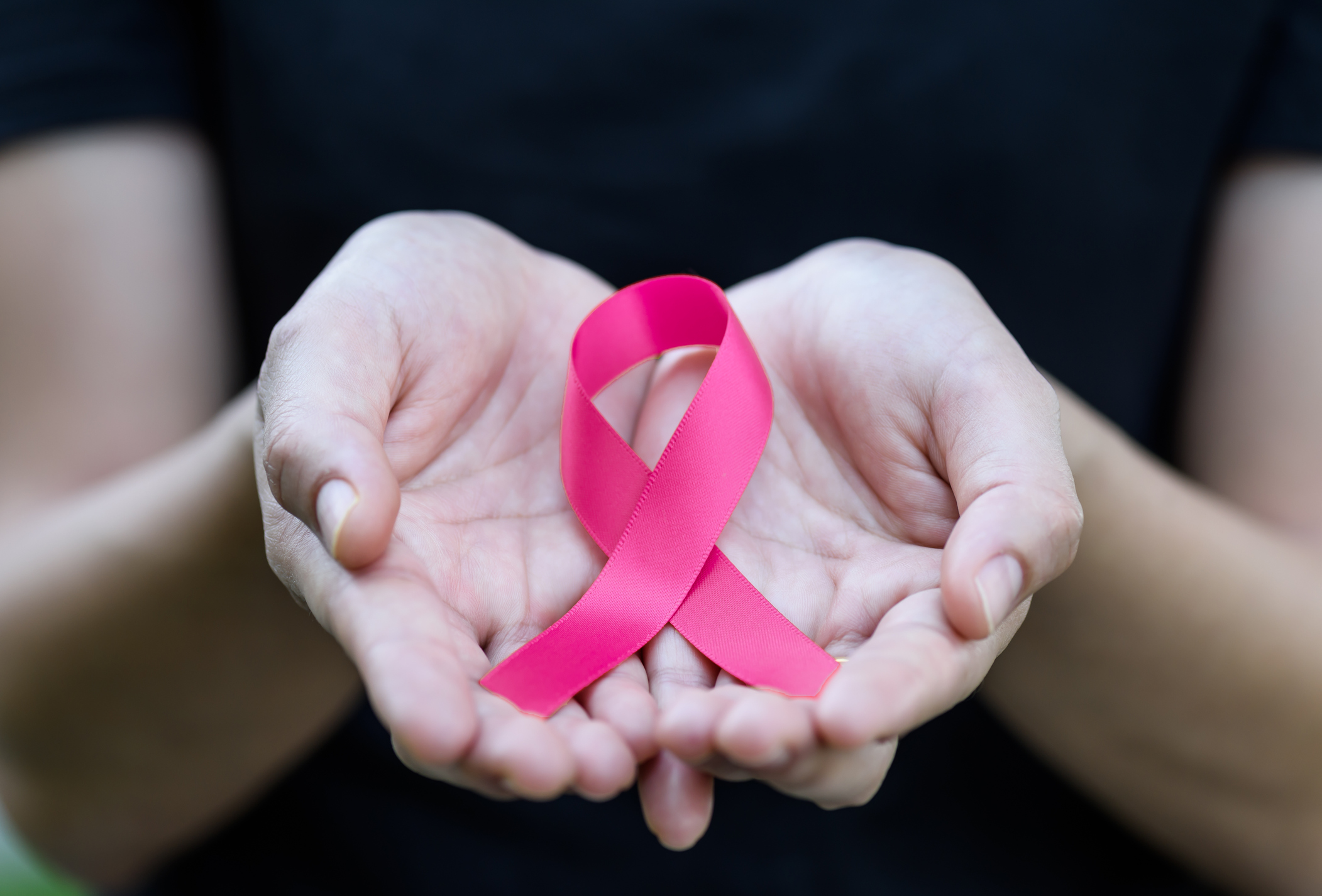 Partnering with Mommy Bloggers to Disseminate Breast Cancer Risk Information
Summary written by Donghee Lee, CJC doctoral student
Breast cancer is the most common cancer affecting women and the second leading cause of cancer-related deaths for women. Understandably, women often look for ways to decrease their chances of having breast cancer, not only for themselves, but also for their daughters. Unfortunately, that isn't always a simple task.
Despite a plethora of disease-prevention information outlets online, cancer-related content from reputable organizations is often written in ways that are difficult for the general public to understand or even access. Conversely, easily relatable and accessible online content can be scientifically inaccurate.  Moreover, rarely does media or other information sources focus on what women can do in their environment to reduce their breast cancer risk.
Dr. Carla L. Fisher, a full member of the UF Health Cancer Center Population Sciences Core and associate professor in the University of Florida's College of Journalism and Communications, has spent more than a decade looking at ways to improve mother-daughter communication to enhance breast cancer coping and reduce disease risk. She and her colleague Dr. Kevin B. Wright recently received a grant from the National Institute of Environmental Health Sciences (NIEHS) to develop a social media intervention to disseminate information to mothers and daughters about making healthier lifestyle choices to reduce environmental risk factors associated with breast cancer. As scientists who are part of the Breast Cancer and the Environment Research Program (BCERP), Fisher and her colleagues are engaged in state-of-the-art research to make breast cancer and environmental risk information accessible to women so they can take actions to prevent their disease risk (as well as their family members' risk) in their day-to-day lives.
Scientists such as those with BCERP have shown that certain chemicals (e.g., BPA, phthalates) that we come in contact with through food, air, water and touch can play a role in increasing breast cancer risk. However, this research is not only hard to make sense of but complicated and at times misinterpreted. Leading cancer scientists and policymakers have advocated that scientists team up with community partners or stakeholders to better ensure that this information is not only widely accessible to the public but also accurate.
Research shows that engaging community stakeholders with whom mothers can relate to and trust is an effective way to increase information exposure and can encourage mothers and families to remember, accept, and share information about disease risk and lifestyle choices. In fact, mothers often use third-party web content to initiate conversations with their daughters about breast cancer, a topic that can be sensitive and stress-inducing.
Fisher and colleagues have found a way to capitalize on this notion by partnering with a community stakeholder (bloggers) that more women are turning to when making health decisions. Mommy bloggers – mothers who write about motherhood-related issues and tips on their blogs – are powerful influencers for many other mothers who often rely on these blogs to make parenting, personal and family-related health decisions. This is in part because mommy bloggers convey information in ways that resonate with other mothers (e.g., language, use of humor, incorporating personal stories).
To test how effective this collaborative strategy is in promoting evidence-based breast cancer and environmental risk information, Fisher and her colleagues recruited 75 influential mommy bloggers to write a breast cancer prevention blog post geared toward mothers with daughters and then analyzed its impact of bloggers' and readers' perceptions and behavior. Bloggers were told they could write the blog in any way they believed would speak to their readers but they also had to incorporate an evidence-based infographic.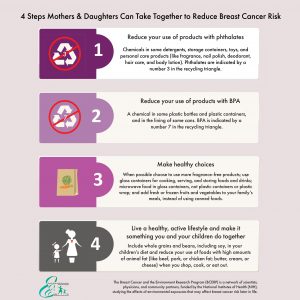 This infographic was created by Fisher and Wright's team and based on scientific evidence from BCERP. It was created to be easily disseminated on social media and tailored for mothers and daughters. The image didn't just provide information but also provided action steps: four things that mothers and daughters can do together to prevent breast cancer. Bloggers also included a paragraph (written by Fisher and her team) identifying where this information was from (e.g., BCERP) as well as links to BCERP's page which includes more information specific to mothers talking to daughters. Bloggers disseminated the information in a blog during Breast Cancer Awareness (October). Fisher and colleagues used a quasi-experimental design to then test the impact of the blog message.
They found that when women were exposed to the blog, they also reported greater exposure to risk information, were more satisfied with breast cancer risk information, and more likely to share the information with their daughters, in comparison to those mothers who were not exposed to the blog. The research team also found that by partnering with bloggers, the information was widely disseminated through a range of online users who "liked," commented, and shared the post on other social media sites.
Communicating about new scientific findings in ways that the audience can easily understand and practice is difficult. According to Fisher and colleagues' study, mommy bloggers can be an invaluable community partner for scientists and interventionists in not only getting the information out there in a reliable, trustworthy form but also in sparking conversations about breast cancer prevention with daughters. The study shows the power of community partnerships and social media. The researchers do note, however, that the information should be culturally tailored better to both attend to mothers' and daughters' unique needs but also to enhance family communication. This team is currently actively working on the second phase of this study to identify some of these strategies for intervention development.
The full study is available here.
Study authors: Kevin Wright, Ph.D., George Mason University; Carla Fisher, Ph.D., University of Florida College of Journalism and Communications; Carmella Rising, George Mason University; Amelia Burke-Garcia, Westat: Dasha Afanaseva, Westat; Xiaomei Cai, Ph.D., George Mason University.
Posted: May 6, 2019
Tagged as: bloggers, breast cancer, Carla Fisher, fisher-lab