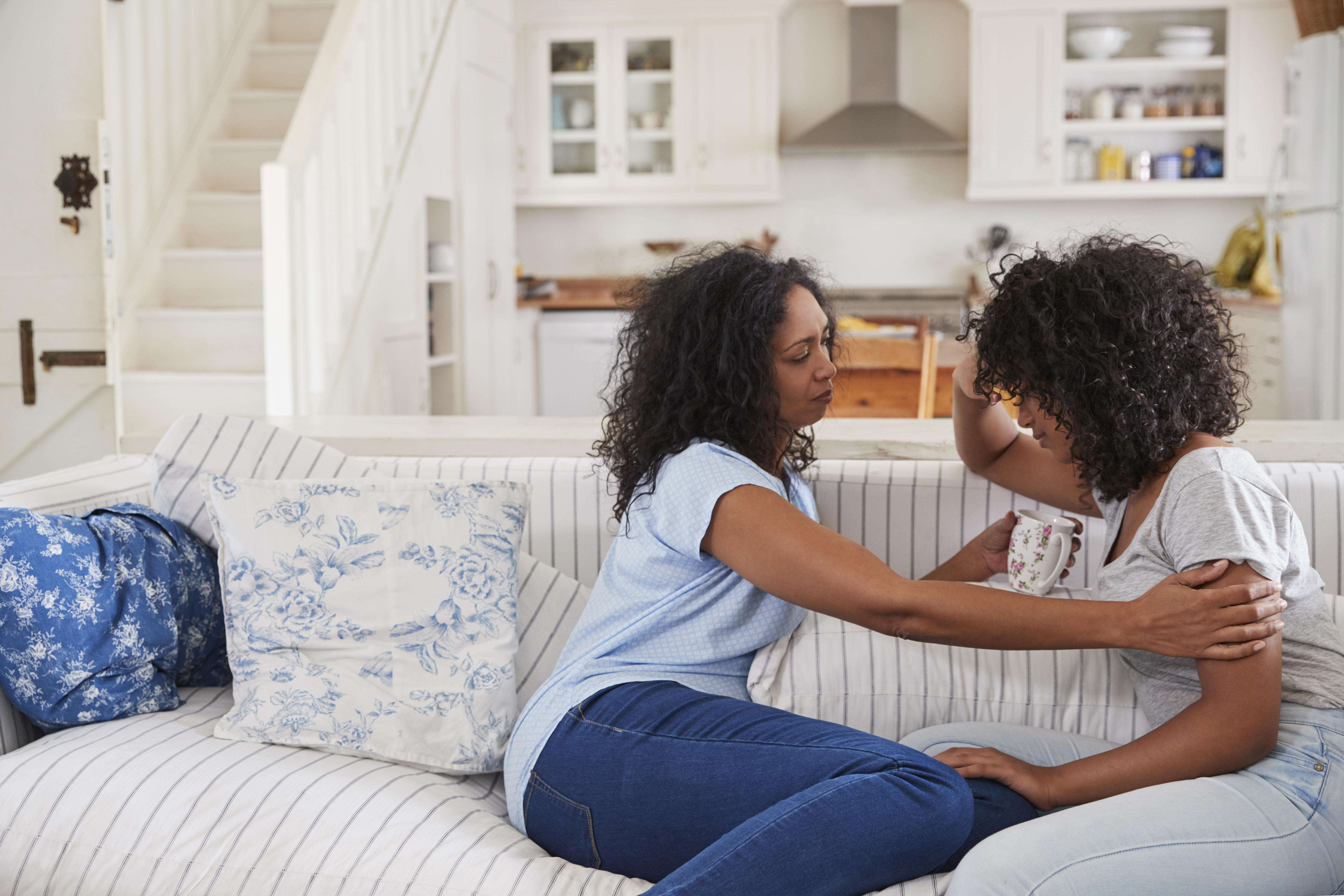 Helping Mothers and Daughters Talk about Environmental Breast Cancer Risk and Risk-Reducing Lifestyle Behaviors
With breast cancer as the most commonly diagnosed cancer for women in the U.S. and the leading cause of death for women in the world, it is critical for mothers and daughters to discuss the disease, potential causes and how to reduce risks of developing breast cancer. Studies show that conversations about risk-reducing breast cancer information between mothers and daughters can influence a daughter's habits and even carry the advice into adulthood.
However, mothers and daughters often struggle with discussions around risk-reducing breast cancer habits. Daughters can find it distressing to talk about breast cancer risk, especially if there is a family history, and it can be challenging for mothers to navigate these conversations. For families without a history of breast cancer, they may not prioritize talking about cancer risk.
Carla L. Fisher, University of Florida College of Journalism and Communications Advertising Associate Professor, and colleagues explored the use of social media to disseminate information to help mothers facilitate the discussion of environmental risks of breast cancer with their family members, including their daughters. Their team utilized a best practice for disseminating research to the public by creating a partnership between scientists and a community stakeholder group known as "mommy bloggers," a network of about four million mothers who have become a public source for parenting and health advice.
As social media continues to reach a broader audience, the researchers partnered with "mommy bloggers" to determine best practices for disseminating helpful and usable information to facilitate mother-daughter discussions.
First, bloggers were asked to write a blog about environmental breast cancer risk that reached 400 readers and included an infographic with a four-step approach to lifestyle changes for mothers and daughters, an online toolkit and a link to more information. Next, researchers interviewed a diverse group of 40 bloggers and 10 readers, asking them to share their experiences talking about breast cancer and environmental risk with their families and to evaluate message-design approaches.
Mothers and bloggers described four approaches to message design that could help facilitate mother–daughter communication. Two action-oriented messaging approaches included helping mothers get the conversation started and keep the conversation going. Two additional approaches suggested that messages be personalized using lifespan factors and appeal to daughters by using age-appropriate language and visuals as well as focusing on developmentally specific lifestyle behavior.
Study findings indicate that interventionist should use the following message design approaches to promote mother-daughter communication about environmental breast cancer risk: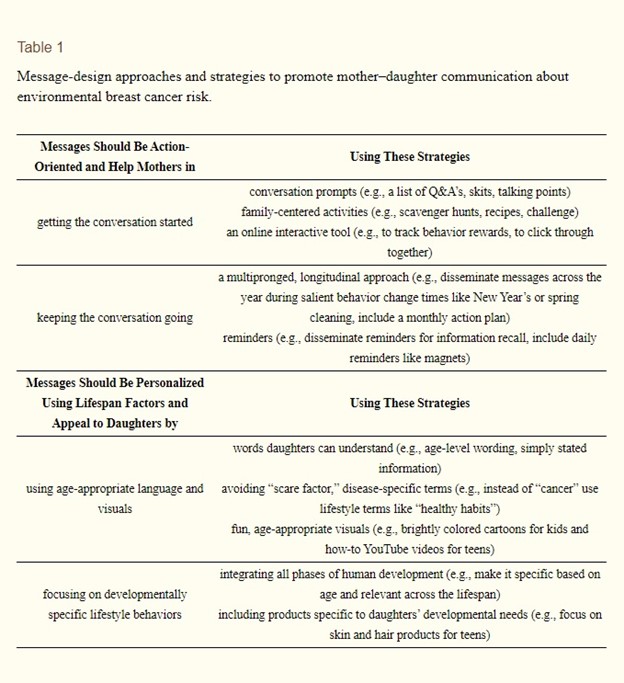 This research will help future interventionists design messages for specific audiences and provide a bridge between mothers and daughters when engaging in difficult conversations.
While the mothers and bloggers interviewed represented a diverse sample, communication preferences and expectations among mothers and daughters do vary by culture. Across cultures, privacy can be a barrier to talking about health for older generations who are more socialized to not share health information.
Future research is needed to test the various approaches and strategies and evaluate interventions over time. It will be important to evaluate which approaches work for various age groups of daughters, whether the approaches help ease daughters' comfort with talking about cancer risk, and  and if these interventions increase mothers' and daughters' adoption of risk-reducing lifestyle habits.
The original article, "Helping Mothers and Daughters Talk about Environmental Breast Cancer Risk and Risk-Reducing Lifestyle Behaviors," appeared in the International Journal of Environmental Research and Public Health, July 2020.
Authors: Carla L. Fisher, Ph.D., Kevin B. Wright, Ph.D., Camella J. Rising, Ph.D., Xiaomei Cai, Ph.D., Michaela D. Mullis, M.A.M.C., Amelia Burke-Garcia, Ph.D., and Dasha Afanaseva, M.P.H..
This summary was written by Alexandra Avelino, UFCJC M.A.M.C. 2020, Student Affairs Program Coordinator at the UF College of Veterinary Medicine
Posted: January 11, 2021
Tagged as: breast cancer, Carla Fisher, Mommy Bloggers