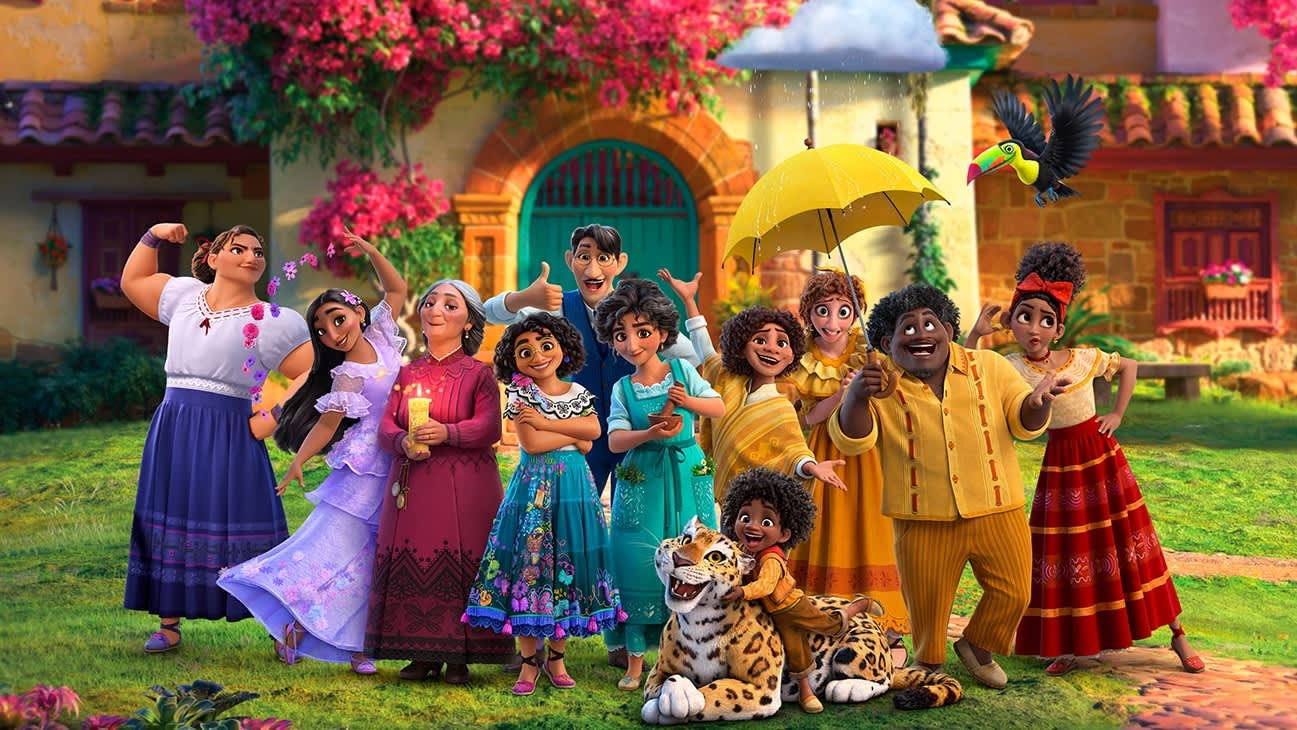 Exploring Roles and Identity in Disney's "Encanto"
Contemporary Disney movies act as a primary source of family role portrayals. By watching Disney movies together, families can observationally learn how to navigate roles within their own families.
To explore this dynamic, University of Florida College of Journalism and Communications doctoral students Chelsea Moss and Taylor Vasquez studied Disney's "Encanto" because the film puts familial roles front and center of its narrative. They identified all depictions of role enactment and limited their analysis to interactions and statements by the film's key characters: Madrigal family members to Madrigal family members.
From their research, the authors identified four broad themes: 1) family reacts positively to others in the system, 2) family reacts negatively to others in the system, 3) individuals must support the family identity, and 4) identity is formed in conjunction with one's family role.
In examining these themes, researchers found that Madrigal family members overwhelmingly emphasized the importance of fulfilling their expected family roles, thereby supporting the family system. There was also an explicit depiction of role re-evaluation throughout the film, which helped separate Madrigal family members' individual identities and their identities as tied to the family.
By examining these themes in "Encanto," they identified the importance of social interaction and how families are crucial places for the creation and verification of the meaning of family. The inter-generational Madrigal family effectively depicts a familiar multi-generational sub-culture that emphasizes the importance of nurturing a culture of shared meanings.
The study showed that the way fictional families are depicted as navigating individual identities and family roles can yield great power with audiences by teaching viewers how to communicate role expectations, tensions, and support to one another. Viewers can apply the underlying behavioral decision principles of the characters in the film to their own lives. Conversations around this, and other Disney films using this approach, could open a doorway for children to express their own tensions within family groups.
Future research should consider examining additional films through the lens of identified themes. Additionally, future research should survey audience response to provide a more holistic view of the film's influence in society and on role identities within families.
The original research paper, "'Make Your Family Proud': Analyzing the Communication of Roles and Identity in Disney's Encanto," will be presented at the 2022 National Communication Association Annual Convention, to be held Nov. 17-22, 2022 in New Orleans. The research won NCA's Douglas P. Cushman Memorial Award.
 This summary was written by Marie Morganelli, Ph.D.
Posted: October 24, 2022
Tagged as: Chelsea Moss, Encanto, family roles, identity, Taylor Vasquez