Careers in Communication Fair: Employer Information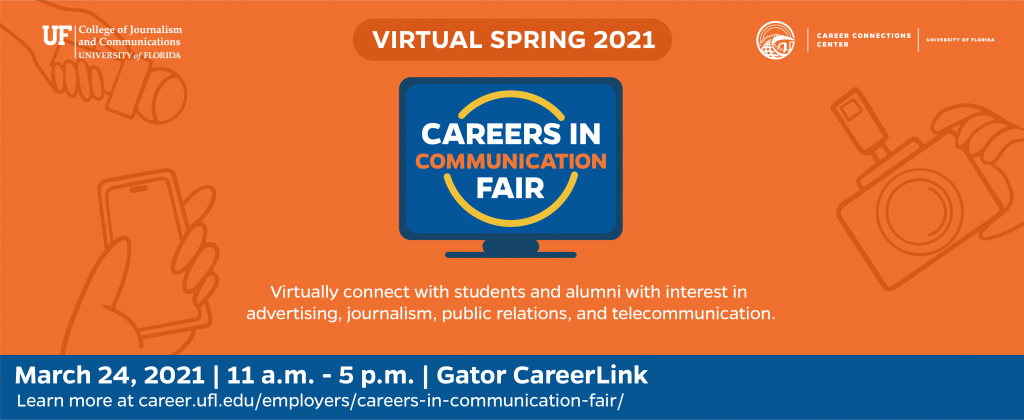 March 24, 2021
11 a.m. – 5 p.m.
Virtual via Gator CareerLink/Symplicity
Employers hiring for jobs or internships in advertising, journalism, public relations, telecommunications, and related communication industries can connect with students or recent grads through various formats during the Careers in Communication Fair!
Register: https://ufl-csm.symplicity.com/events/cicf_sp21
Questions about the fair? Contact David Adams at dadams@ufsa.ufl.edu or 352-294-2045.
About the Fair
Our spring 2021 career fair will be virtual and offer employers the opportunity to connect with students through various interactions:
Pre-Scheduled Interviews: host interviews with students who have pre-applied for your open positions posted on Gator CareerLink
Information Sessions: host one or more group info sessions during the fair to connect with students who want to learn more about your organization
Open Networking: host a virtual queue that students can join to connect with you or your colleagues 1-on-1, similar to how they would at a traditional in-person career fair
The Virtual Fall 2020 Careers in Communication Fair attracted nearly 200 students and alumni, resulting in over 330 unique connections between attendees and employers. We expect students of all class years and majors from the College of Journalism and Communication and multiple other UF colleges, as well as graduate students and alumni, to participate in the Careers in Communication Fair.
Employer Preparation and Success
To help our employer partners prepare for a successful career fair, we are offering several optional sessions to review the virtual career fair platform and discuss how to connect with students during the event. We hope these will be valuable not only for the Careers in Communication Fair but also for other fairs in which you may participate.
Employer Success Session: Overview of the Virtual Career Fair
Employer & Student Drop-In Hours

Drop by to ask any questions or receive assistance before the fair.
Registration Information
Registration Fees:
$75 – Corporate
$50 – Non-Profit
Free – UF offices/departments
Registration includes:
Participation in the event
Unlimited amount of recruiters
Online listing for your organization
Payment Information
We accept credit cards (VISA, MasterCard or American Express) and checks. In the registration form, be sure to select your payment type as credit card or check.
You will receive instructions to pay via credit once your registration is confirmed and you receive an invoice.
For questions about payments only, please contact Tina Crippen at 352-273-2321 or make an appointment here to connect with Tina.
Cancellation and Refund Policy:
February 26, 2021 is the cancellation deadline for this event. Cancellations received by this date will receive a full refund and will not be charged for their event registration. All cancellations must be submitted in writing to CCCCareerFairs@ufsa.ufl.edu. No cancellations will be accepted after the cancellation deadline.
"No-Shows": Registered organizations that fail to participate on the day of the event will be charged for the event.
Failure to pay invoices due will prevent employers from accessing future Career Connections Center services and events.
Appeals: Organizations can appeal their cancellation charges in the event of unforeseen circumstances. Appeals will be reviewed by a committee for approval. Cancellation appeals outlining the details for cancellation and circumstances must be emailed to HireGators@ufsa.ufl.edu for consideration. Responses to any appeal requests will be provided within three weeks after the conclusion of the event.