Careers in Communication Fair: Employer Information

Employers hiring for jobs or internships in advertising, journalism, public relations, media production, management, and technology (formerly known as telecommunication at UF), and related communications industries can connect with students or recent grads during the Careers in Communication Fair – Spring 2022!
Event Details
Event type: In-person career fair
Date: Wednesday, March 16, 2022, 10 a.m. – 2 p.m.
Location: Reitz Union Grand Ballroom (located on level 2), University of Florida
Registration Information
Registration is now open; visit Gator CareerLink to register.
What's included with your registration:
For each registered organization:

One table
One reserved parking space
Two representatives/recruiters
A meal for each registered representative/recruiter
Resume packet with copies of all RSVP'd students' resumes (sent electronically before the fair)
Interview space in the Career Connections Center after the fair (by request)
Registration Rates:
Corporate – $100
Nonprofit or Government – $75
UF Departments and Affiliated Organizations – $50

Note for organizations registering using the UF rate: Parking is not included, and only one representative/recruiter is included. Please select the nonprofit rate if you have more than one representative attending.
Additional Fees:
Extra representatives – $25
Extra reserved parking spaces – $6
Additional Opportunities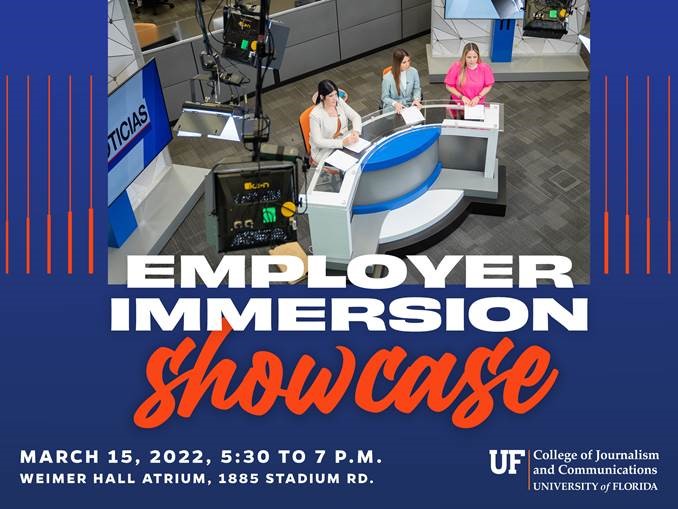 Employer Reception & Immersion Program Showcase – Tuesday, March 15, 5:30-7 p.m.
Employers are invited to connect with students, faculty and staff at a complimentary reception the evening before the career fair. Hosted by the College of Journalism and Communications, the reception will include tours of the Innovation News Center and The Agency, the opportunity to a view a live, student-produced newscast and connections with CJC student leaders. Light refreshments will be provided.
Secure your spot at the Showcase today!
Post-Fair Interviews – Wednesday, March 16, 2-5 p.m.
You may reserve a complimentary interview space in the Career Connections Center to meet individually with students after the career fair. Request an interview space when you register for the fair, or contact David Adams to add an interview space to your registration.
Questions about the Careers in Communication Fair?
Please contact David Adams, Manager for Integrated Partnerships for CJC in the UF Career Connections Center, at david.adams1@ufl.edu, 352-392-2045 or 352-392-0452.