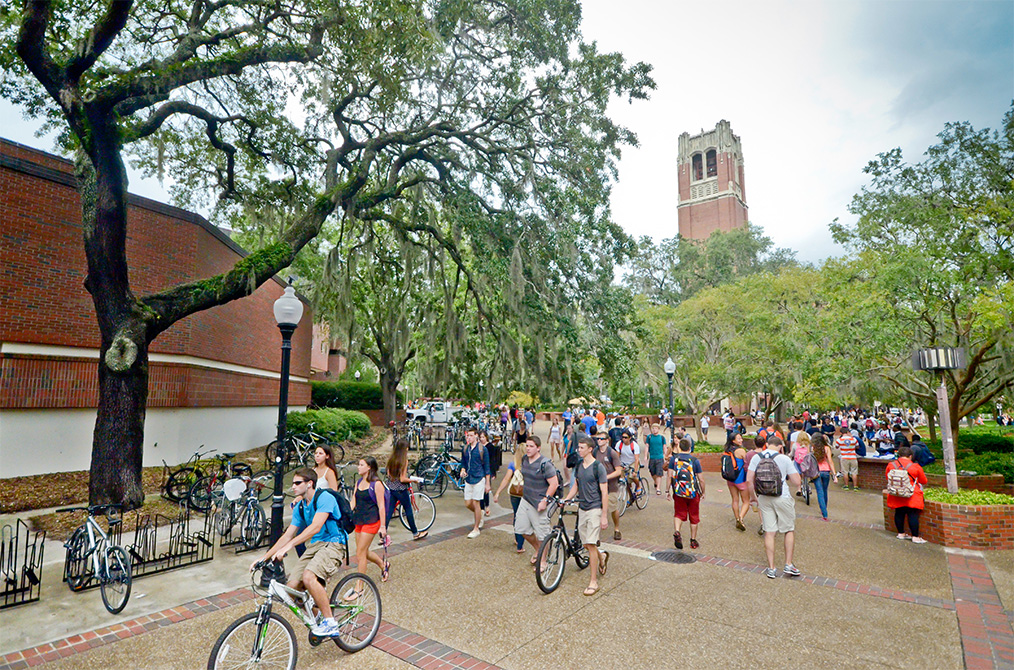 Admissions
Students applying to the university for the first time (freshmen and transfers) should refer to the UF Admissions website for information:  www.admissions.ufl.edu.
Freshman Information: The university's Office of Admissions coordinates freshman admission.
Transfer Information: The College of Journalism and Communications at the University of Florida is a limited admissions college. All transfer applicants will be considered on a space-available basis. View our Transfer Admissions handout (PDF).
"An AA graduate from a Florida public postsecondary institution shall receive priority for admission to a state university over out-of-state transfer students." – Florida Board of Governors articulation agreement
Academic Standards: A grade point average of 2.5 (on all work attempted) and the AA degree from a state/community college in Florida are required for transfer admission. Out-of-state transfer students must complete 60 hours of acceptable credit and the university's general education requirements.
Students denied admissions may petition. Petitions are available from PATH: Professional Advising and Teaching Hub, Weimer Hall, Room 1060.
The following five courses are required for transfer students to be admitted:
ENC1102 – Argument and Persuasion
AMH2020 – American History since 1877
POS2041 – American Federal Government
STA2023 – Introduction to Statistics
ECO2013 – Principles of Macroeconomics
Attention Advertising & Public Relations Majors: PSY2012 General Psychology is accepted in lieu of POS2041
Transfer applicants with 90 or more credits from another institution will not be considered for admission. Instead, the student is encouraged to finish the bachelor's degree at their current institution, and then consider applying to one of our master's degree programs:
Residential programs: https://www.jou.ufl.edu/current-students/masters/
UF CJC Online master's programs: http://onlinemasters.jou.ufl.edu/
Transfer applicants with between 80 and 89 credits from another institution, if admitted, will be required to prepare a semester-by-semester academic plan that leads to degree completion. Student will be asked to acknowledge that degree completion will require successful completion of at least 64 credits at UF and that it may take in excess of 4 traditional semesters to complete all requirements.
Undergraduate Admission Deadlines
Application deadlines below are for undergraduate transfer applicants and undergraduates seeking readmission:
Undergraduate transfer applicants can find application deadlines here:
http://www.admissions.ufl.edu/apply/transfer/trapdates
Undergraduates seeking readmission can find application deadlines here:
http://www.admissions.ufl.edu/apply/readmission
Readmissions Process
Readmission applies to students who have previously attended the University of Florida as a degree seeking student. Former undergraduate students who do not enroll at the University for two consecutive terms (this includes summer semesters) or are dismissed must apply for readmission. Please keep in mind that if you attended UF for a semester but then withdrew from that term, you are considered to have attended that semester so applying for readmission may not be necessary. When reviewing your readmission application, the College of Journalism and Communications will take into consideration your academic history as well as your potential success in your selected major; however, readmission is based on availability and is not guaranteed.
There are three different categories of readmissions:
Fresh Start
The Fresh Start Program is designed to assist former University of Florida undergraduate students who have been dismissed from UF and want to pursue readmission after an absence of no fewer than five calendar years (during which time they have engaged predominantly in nonacademic activities). The College of Journalism and Communications generally supports Fresh Start for who had a difficult beginning at UF rather than students who were dismissed after their junior or senior year since this is typically the time that students have the greatest transition issues (i.e., high school to college).
Students interested in the Fresh Start Program in the College of Journalism and Communications should first contact an academic advisor in 1060 Weimer Hall to determine initial eligibility.
If re-admitted under the Fresh Start Program, credit for previous UF courses in which a grade of C or better was earned will be calculated in UF hours earned and may be applied toward a degree. No grades previously earned in UF courses will be included in the UF grade point average. All previous course attempts and grades received will remain on the student's academic record and transcript. Fresh Start students are readmitted in good standing. However, if they accumulate a grade point deficit of 15 or more points in the future, no further petition for readmission will be allowed. Additionally, Fresh Start students are not allowed to change majors.
Dismissed
If you seek readmission to the College of Journalism and Communications after being dismissed from the University of Florida, you must apply by the deadline according to the university calendar.  The College of Journalism and Communications usually does not readmit students with more than 20 deficit points; students who have been dismissed and have subsequently earned an AA degree at another institution; or, students who have been dismissed after having already been readmitted once; therefore, you may need to consider other academic options.  If you do have between 15-20 deficit points, your application will be reviewed by the CJC readmission committee.  Upon review of your application, you may be invited to meet with a readmission advisor to discuss your academic plan.  During this interview, your advisor will develop a readmission contract with you that will specify GPA and course requirements.  The contract will be reviewed by the Associate Dean for approval.  If approved, you will be monitored each semester you are under contract. Students must meet all contract conditions to be eligible to continue in the College.
Below 2.0 UF GPA
We encourage you to consult with a PATH academic advisor to discuss the likelihood of readmission to the major you desire. If there were any documentable extenuating circumstances that affected your academic performance while at UF, you are encouraged to look into the University Petitions process in an effort to potentially improve your chances for readmission by reducing your deficit record. Once you are ready to apply go to the UF Admissions Office for more information on the readmission application process and make sure that you apply by the required deadline.
In general:
If you left UF with 20 or fewer deficit points, were in universal tracking terms 1-5, and have not taken additional coursework since you left UF, CJC will attempt to work with you on a case-by-case basis. However, be aware that taking classes elsewhere after leaving UF with a deficit record could jeopardize consideration for readmission since these grades do not improve your UF GPA.
If you earn an AA degree from the Florida community college system after leaving UF with a deficit record, you will not be eligible for readmission under the articulation agreement.
If you left UF with 20 or fewer deficit points but were in universal tracking terms 6 and higher, your chances of readmission are reduced.
If you left UF with more than 20 deficit points, please refer to the other readmission category: Readmission – Dismissed.
Above 2.0 UF GPA
If you left CJC on-track for the major you were pursuing and are reapplying to the same major without having earned any additional credits elsewhere, follow the standard readmission procedures outlined on the UF Admissions Office website. If a student is "on-track" and in good standing before an absence of two or more semesters, and reapplies to the same major they were in before the absence then readmission is generally granted.
If a student leaves and reapplies after ten years, and subsequently readmitted, then the catalog in effect at the time of readmission must be followed.
Deficit Records at Other Institutions
Students with a deficit record at a different (not-UF) institution may not be admitted or readmitted to UF. If a student earns a deficit record while doing transient work at a different institution, they are permitted to return and graduate. However, if that student skips two consecutive terms at any point after the deficit record is earned, their readmission application will be denied until they can correct the deficit record.