Five Questions With…Christina Gayman
"Five Questions With…" is a series of profiles of CJC graduates and the career paths they chose.
Christina Gayman, B.S. Journalism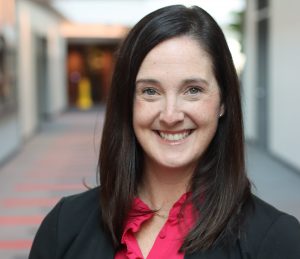 1. Tell us about your current job.
Syverson Strege is a fee-only financial planning and investment management firm in West Des Moines, Iowa. I oversee their communications and marketing efforts which includes everything from content (articles, videos, podcast episodes) and social/digital media to concepting and executing client events and prospective client events and promotion of the company and our brand.
2. Why did you choose to come to the UF College of Journalism and Communications?
I chose to attend CJC for its integrated communications and journalism course offerings at a time when integrated communications was still quite new. I loved the variety of courses I was able to take, as well as the incredible experience my professors had professionally that translated into their instruction.
3. How did your time at CJC help prepare you for this current position?
My time at CJC taught me how to effectively communicate in many different forms, and how to fact check like no other. It put me in the shoes of the individuals I was telling stories about or those impacted by news I was covering and taught me how to deliver those messages that showed respect and dignity for those involved.

4. Was there a defining moment, personally or professionally, at CJC that set you on your current path?
JOU 3101 Reporting with Mike Foley as my instructor changed my life. I'm forever grateful for his "tell it like it is" mentoring style. I'm the writer and communicator I am today because of him.
5. What advice do you have for students interested in pursuing a career similar to yours?
Take additional public relations and marketing courses. Take continuing education seriously, and join professional organizations such as PRSA and AMA because their programming truly is on the cutting edge of this rapidly changing industry.
Posted: October 31, 2023
Category: Alumni Profiles, College News, Five Questions With..., Profiles
Tagged as: Christina Gayman, Mike Foley