Janet Coats Selected to Join Center for News, Technology & Innovation Advising Committee
Janet Coats, managing director of UF's Consortium on Trust in Media and Technology, has been selected to selected to serve as an advisor on the new Center for News, Technology & Innovation (CNTI). Research executives have raised nearly $3 million to launch this independent policy research center focused  on global internet issues, including disinformation, algorithmic accountability and the economic health of the news industry.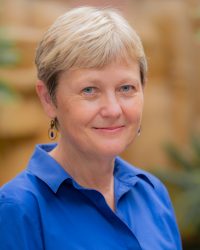 The 25-member advising cohort is comprised of prominent media, tech, research and cybersecurity executives including Norman Pearlstine, former editor-in-chief of the Los Angeles Times and Wall Street Journal; Vivian Schiller, executive director of Aspen Digital; and Steve Waldman, co-founder and CEO of Report for America. CNTI's board includes former Washington Post Executive Editor Marty Baron and Nobel Peace Prize winner Maria Ressa.
The CNTI will conduct its own research, but it will also synthesize and commission other high-quality research to drive conversations about internet policy. CNTI's work, including its research, analysis and policy discussions, will be available for free as a resource to anyone looking to shape global internet policy.
Coats, who joined UF in 2021, is the former executive director for Innovation and Strategy at the Walter Cronkite School of Journalism and Mass Communication at Arizona State University. She has been at the forefront of the seismic shifts in journalism and information culture over the last 25 years. Coats has led large multimedia news organizations, done groundbreaking work in civic engagement and reader outreach, and built her own consulting company focused on engagement and sustainability strategies for non-profit and entrepreneurial news organizations.
Posted: August 22, 2023
Category: College News, Trust News
Tagged as: Center for News Technology & Innovation, Consortium on Trust in Media and Technology, Janet Coats