From Soccer Fanatic to Soccer Journalist, Gaby Muiño Fulfills her Passion
From Soccer Fanatic to Soccer Journalist, Gaby Muiño Fulfills her Passion
By Talia Baia, Journalism/Sports Media junior, Jamie Goldman, Journalism/Sports Media senior, Sydney Savage, Media Production, Management, and Technology junior
In a CJCxNYC and Sports@CJC collaboration,13 CJC students traveled to New York City from July 17 – 22, 2023, to learn about and from sports media professionals. Among other assignments and activities, students met with CJC alumni. This is one of five alumni profiles written during this experience.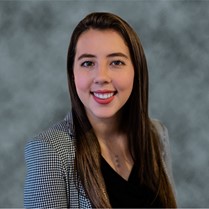 As University of Florida College of Journalism and Communications (UFCJC) alumna Gabriela "Gaby" Muiño, B.S. Telecommunication 2018, arrived at DRV PNK Stadium in Ft. Lauderdale, Florida, on July 16, she was greeted by an endless line of media and reporters, all trying to witness soccer superstar Lionel Messi's unveiling with Major League Soccer team Inter Miami CF.
"From the moment I got there, I could already tell it was going to be madness," Muiño said.
She was in South Florida to cover the event and curate captivating content for Bleacher Report (B/R) Football, the soccer division of B/R's social media platform. In addition to contending with an overwhelming number of fellow reporters, weather became another obstacle.
In typical Florida fashion, severe thunderstorms and rain surrounded the stadium. But Muiño, who grew up in Miami, was prepared. Armed with a raincoat and a protective cover for her bag, she ensured her mobility even amidst the downpour.
Muiño's familiarity with inclement weather allowed her to be quick on her feet and creatively use the circumstances to produce content. Her unwavering positivity and focus shone through, despite the challenging conditions. Such an enthusiastic mindset is nothing new for Muiño.
"She was never negative about anything," her former professor James Babanikos said. "She always looked at the good things, and she will always try to make things better."
This event exemplifies Muiño's adeptness in applying critical thinking and optimism to capture the shots necessary for B/R's coverage. "It's about being assertive but also anticipating what can happen so I can be at the right place at the right time," Muiño said.
With soccer and cameras being two of her favorite things, covering Messi's debut with Inter Miami is a perfect example of her going from passion to action.
Coming from a Hispanic household in Miami, Muiño was immersed in the world of soccer from an early age. She followed the game avidly throughout her childhood, idolizing female players such as Abby Wambach and Alex Morgan. Yet, when asked to reveal her all-time favorite player, she simply pointed to a figurine of Messi sitting on her desk.
Her love for the game has burned bright forever. But little did she know how far that passion could take her.
A Glimpse at UF
While at UF, Muiño engaged in diverse roles within the College. She was involved with ESPN Gainesville, GatorVision, WUFT-TV and was a video producer for the UF women's basketball team. To remain connected to her passion for soccer, she dedicated her free time to refereeing UF men's and women's club soccer teams' matches. Her love for soccer was so strong, she would set up a small screen in the corner of her desk, enabling her to watch games while studying and taking notes.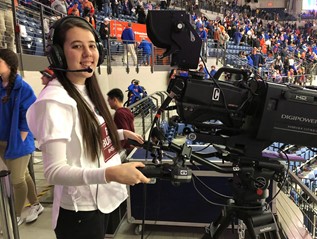 As a Telecommunication major, Muiño pursued various courses that laid a strong foundation for her future endeavors. Notably, she enrolled in Electronic Field Production and After Effects Post-Production, both taught by Professor Tim Sorel. He still commends her swift grasp of concepts and speaks highly of her learning habits, recalling he selected her for his content creation team for the UFCJC study abroad program.
"She did a lot of things for me, as far as graphics, motion graphics, animations and things to help support our marketing," Sorel said. "She was always super prepared and started carrying a sense of professionalism early in her career, a sense of maturity."
Muiño believes her time at UF effectively prepared her for her subsequent pursuits and career aspirations, including mastering Adobe software, notably Illustrator and Photoshop. She still applies these skills to her work in her current role in digital media at B/R Football. Additionally, Muiño honed her organization skills in Weimer Hall. Thanks to her heavy involvement with various organizations, she had to learn how to manage her time.
"That is rare, that you can spot that with a student early on, that they're organized, and she was definitely organized," Sorel said.
Between managing operations on set and social media platforms, Muiño had become increasingly involved with television and sports. She found skills in these departments easy to pick up, which fueled her passion and drive to pursue a career working behind the camera. Her professors always suspected that she was destined for great success.
"She was so good…she really stood out," Babanikos said.
"You can just tell," Sorel said.
Work After Graduation
After graduating from the UF in 2018, Muiño took a unique path to get to where she is today. She started her journey at FOX Sports as a content intern, but then veered away from the sports industry for a bit.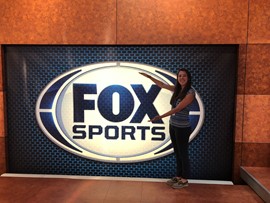 She pursued more of a production path and worked for an array of companies, including ImanKZ Productions, ThinkTwice Media and Dana Lynn Photography. She also stayed with her initial love, behind the camera, working as a freelance videographer and editor on the side in addition to working for Dana Lynn.
"It was fun just doing stuff with my camera," Muiño said about her time working as a freelance videographer and editor.
In August 2020, shortly after the coronavirus pandemic hit, Muiño decided to make a major transition. She moved to New York City, despite not having a job lined up. Although she had deviated from working in sports for a few years, Muiño's love for soccer never wavered.
After a few months of networking and applying for jobs, she landed a position at Bleacher Report Football in December of 2020. She has been there ever since.
B/R Football
At B/R Football, Muiño's primary role is to script out, edit and produce graphics, but has also created animated shorts and even covered the career of some of the best players in the world.
She helps with programming social media content and communicating between various departments. As a content programmer, she keeps an eye on what posts on each platform have the most engagements.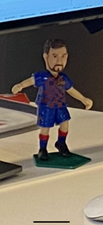 When asked about B/R Football's goal, Muiño said that it is to always enhance fans' viewership. A big part of that is keeping up with the game's greatest stars like Messi and Cristiano Ronaldo.
Muiño disclosed that the only downside to the job is the fact that she's not enjoying the game as a fan anymore. Now during games or other soccer events, she has a job to do.
"I went to the event and it was cool and all, but the whole time I was on my phone and making sure I filmed," Muiño said about her assignment to cover Messi's unveiling with Inter Miami.
Muiño said that she doesn't just consume the sport as a fan anymore, but also watches it through a work lens as well. "I still am very passionate and a fan of the sport and my teams," she said. "I don't see myself working in another sport."
Posted: August 21, 2023
Category: Alumni Profiles, College News, Sports, Sports Media Alumni
Tagged as: Gaby Muino