Study: Prominence of Media Coverage of Women's World Cup Soccer
The FIFA Women's World Cup was a steeple of professional sports in the summers of 2015 and 2019. Did newspapers deem the story newsworthy enough to reach the front page?
Research by Roxane Coche, University of Florida College of Journalism and Communications (UFCJC) Media Production, Management, and Technology associate chair and assistant professor, and Travis Bell, found that newspapers avoided the trap of gendered, trivialized sport representation, and that content changes highlight the potential impact from newspaper ownership consolidation on layout design that can have long-term implications for agenda-setting research.
Their research was featured in "Front-Page Prominence and Newspaper Ownership: Examining U.S. Women's National Team Coverage After 2015 and 2019 World Cup Victories" published in Journalism on March 19.
The authors analyzed content from over 900 U.S. newspapers' front pages published on July 6, 2015, the day after the 2015 FIFA Women's World Cup (WWC) final, and on July 8, 2019, the day after the 2019 WWC final.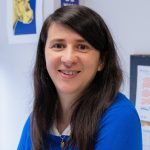 According to the authors, "Of importance to the current study, the role of newspapers in setting an agenda for U.S. Women's National Team's (WSWNT) success over time is critical to consider, especially when recognizing the shifting landscape of newspaper ownership between the 2015 and 2019 WWC events."
They add, "This study examines whether the USWNT's dramatic rise in popularity and its back-to-back world championships prompted U.S. newspapers to provide prominent placement and visual representation on their front page. Through a content analysis of more than 900 front pages of U.S. daily newspapers published the days after the USWNT won its 3rd and 4th World Cups in 2015 and 2019, respectively, it determines whether the victories received front-page coverage, and if they did, the prominence they were given through page placement and coverage elements. Additional examination of newspaper ownership and its impact on the centralization of content considers new directions for agenda-setting research."
Posted: March 22, 2023
Category: College News
Tagged as: Roxane Coche