Mike Loizzo Joins UFCJC Division of Media Properties as WUFT "Morning Edition" News Anchor
Mike Loizzo has joined the University of Florida College of Journalism and Communications (UFCJC) Division of Media Properties as a multimedia content producer in the Innovation News Center. Loizzo will assume the role of "Morning Edition" news anchor joining local host Glenn Richards beginning Jan. 30. "Morning Edition" is broadcast Monday through Friday from 5 to 10 a.m. on public radio stations WUFT 89.1/90.1 FM.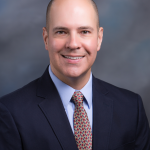 Loizzo has more than 20 years of experience in journalism and communications including as a news director and journalist at Purdue University's public media stations WBAA-FM/AM. While at WBAA, he collaborated with other Indiana public broadcasting stations to plan and develop news programming on legislative issues and statewide elections. He also received reporting awards from the Society of Professional Journalists in Indiana and the Public Radio News Directors competitions.
Loizzo comes to UFCJC from the UF Institute of Food and Agricultural Sciences Soil and Water Sciences Department where he worked as a Communications Specialist. He earned his bachelor's degree at Southern Illinois University-Carbondale and a master's degree at the University of Illinois-Springfield. He has taught journalism courses at UF, Purdue University, and Florida SouthWestern State College.
Posted: January 25, 2023
Category: College News
Tagged as: Innovation News Center, Mike Loizzo