Linjuan Rita Men, UFCJC Doctoral Students and Alumnus Author Book Chapter on Leadership Communication
Linjuan Rita Men, University of Florida College of Journalism and Communications (UFCJC) Public Relations professor and director of Internal Communication Research, doctoral students Jie Jin and Renee Mitson, and Marc Vielledent, Ph.D. 2022, are the authors of "Leadership Communication During Turbulent Times," a chapter in the Research Handbook on Strategic Communication published on Dec. 13.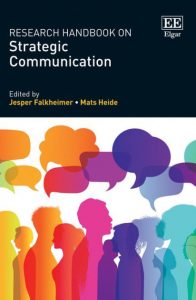 When the organization's normal operations and employee work routines are interrupted during times of turbulence, such as during the COVID-19 pandemic, the role of internal communication in the effectiveness of the organization can be paramount.
According to the authors, "This chapter delves into the issue of leadership communication, particularly during turbulent times. Based on a comprehensive review of recent research and theorization on leadership communication, we intend to advance the theoretical understanding of leadership communication in relation to change and crisis by providing research-based insights for leaders to more effectively communicate as they navigate the fast-changing world."
They add, "To successfully navigate constant changes, crises, and associated internal and external challenges, leaders must be equipped with strategic communication competence, skill and overall mentality. Ultimately, a healthy and trusting communication climate and culture requires time and collaborative efforts maintained through effective leadership communication."
The book, featuring contributions from almost 60 leading international scholars, offers an advanced overview of relevant theories, concepts, and methods in strategic communication.
Posted: December 14, 2022
Category: Alumni News, College News, Student News, Uncategorized
Tagged as: Jie Jin, Linjuan Rita Men, Marc Vielledent, Renee Mitson