Clay Calvert Comments on First Amendment Challenges to Proposed Restrictions on Social Media Platforms
Clay Calvert, director of the Marion B. Brechner First Amendment Project and Brechner Eminent Scholar in Mass Communication at the University of Florida College of Journalism and Communications, is quoted in "State Laws Targeting Social Media Platforms Face First Amendment Challenges" published in the December 2022 edition of the ABA Journal.
The article focuses on the efforts of Florida and Texas to closely regulate social media platforms and whether their efforts in doing so violate the First Amendment speech rights of the platforms.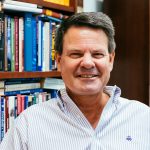 The social media platforms counter that the laws are a clumsy attempt to regulate the protected speech and expression choices of private companies—including their First Amendment right to engage in editorial discretion. They also say that these laws are preempted by Section 230 of the Communications Decency Act, which provides a great deal of immunity to online service providers, often insulating them from liability for third-party posts.
Calvert cites the Supreme Court's 1974 decision in Miami Herald v. Tornillo, which examined whether a Florida law requiring newspapers to give political candidates a right to reply to adverse editorials invaded the protected province of newspapers' editorial judgment.
"Tornillo made it clear nearly 50 years ago that when it comes to print newspapers, editing is for editors—not the government—no matter how biased their editorial choices may seem," said Calvert. "Print newspapers simply cannot be compelled to host content that the government demands. Print newspapers have an unenumerated First Amendment right not to speak."
"Social media companies are not common carriers because they establish, revise and actively enforce policies about what speech will not be tolerated on their platforms," said Calvert. "Such content moderation and content banishment practices amount to social media companies exercising editorial control and discretion over speech."
Posted: December 2, 2022
Category: College News, Marion B. Brechner First Amendment Project News
Tagged as: Clay Calvert, Marion B. Brechner First Amendment Project