Clay Calvert Comments on the Right to Record or Livestream a Traffic Stop
Clay Calvert, director of the Marion B. Brechner First Amendment Project and Brechner Eminent Scholar in Mass Communication at the University of Florida College of Journalism and Communications, is quoted in "Threatened with Jail for Livestreaming Traffic Stop, He Sued" published in The Washington Post on Nov. 29.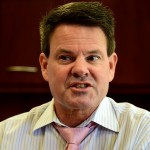 The article focuses on whether passengers in traffic stops can be blocked from recording police and whether livestreaming is different from recording. So far, no circuit court has made a ruling on the right to record.
"It is not a clean case in terms of precedent, and that's what makes it complex," said Calvert. "New technologies kind of push the boundaries of things — this is how law evolves."
Seven federal appellate courts have affirmed that there is a First Amendment right to film the police. But all said there can be "reasonable" restrictions on that right, and the U.S. Supreme Court has not clarified what counts.
"That ambiguity can be exploited by authorities," said Calvert. "The reasonableness, what's a reasonable limitation, is a slippery concept."
Posted: November 29, 2022
Category: College News
Tagged as: Clay Calvert, Marion B. Brechner First Amendment Project