Clay Calvert Comments on Ruling to Strike Down Florida's "Anti-Woke" Law
Clay Calvert, director of the Marion B. Brechner First Amendment Project and Brechner Eminent Scholar in Mass Communication at the University of Florida College of Journalism and Communications, is quoted in "Judge Strikes Down Florida's 'Anti-Woke' Law for Universities" published in University World News on Nov. 25.
The article focuses on how Florida's public and private universities will not be able to enforce one of Florida Governor Ron DeSantis' signature pieces of legislation limiting academic freedom after a federal judge issued an injunction against it on Nov. 17.
According to Calvert, the case is the first skirmish in what is likely to be a protracted battle between the state of Florida and the plaintiffs.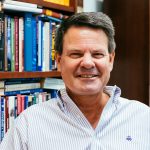 "The state of Florida has already said it will appeal the decision to the US Court of Appeals for the 11th Circuit. There, it will be heard by a three-judge panel, so that could make a difference. Judge Walker's decision is unsurprising. He had already ruled against the UF in an expert witness case," said Calvert. "This decision is a huge victory for academic freedom of professors when speaking in their classrooms. It is also a victory for students at public universities in the state of Florida to receive viewpoints on issues that may be deemed contentious or controversial."
Calvert said that one of the notable aspects of Walker's ruling highlights that the First Amendment not only protects speech but, from the student plaintiffs' point of view, the right to receive speech.
He believes that whatever the Appeals Court decides, the decision will most likely be appealed to the Supreme Court.
"The State of Florida has an incentive to appeal given that DeSantis is likely to run for the Republican nomination for president. The issue has a lot of national interest given the controversy over the teaching of the tenants of Critical Race Theory across the country at both the high school and college level. So, this issue has national interest."
Posted: November 28, 2022
Category: College News, Marion B. Brechner First Amendment Project News
Tagged as: Clay Calvert, Marion B. Brechner First Amendment Project