Clay Calvert Comments on Federal Judge's Decision to Pause Portions of the Florida "Stop WOKE" Act
Clay Calvert, director of the Marion B. Brechner First Amendment Project and Brechner Eminent Scholar in Mass Communication at the University of Florida College of Journalism and Communications, is quoted in "Judge Nixes Higher Education Portions of Florida's Stop WOKE Act" published in The Washington Post on Nov. 17.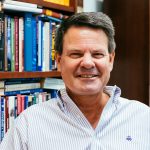 A federal judge has paused parts of a Florida law that restricted conversations about race in public colleges and universities. The Stop Wrongs to Our Kids and Employees or "Stop WOKE" Act, backed by Florida Gov. Ron DeSantis, is the nation's strongest legislation against critical race theory, an academic framework centered on the idea that racism is systemic and not just demonstrated by individual people with prejudices.
Calvert hailed the ruling indicating that the law is "reprehensible."
"It is definitely a victory of academic freedom of professors in the classroom and students' ability to receive speech," he said. "Viewpoint-based discrimination allows the government to skew the marketplace of ideas to its own position. That's why it's so reprehensible."
Posted: November 18, 2022
Category: College News, Marion B. Brechner First Amendment Project News
Tagged as: Clay Calvert, Marion B. Brechner First Amendment Prioject