Angela Bradbery Featured in AEJMC Media and Culture Podcast
Angela Bradbery, University of Florida College of Journalism and Communications Frank Karel Chair in Public Interest Communications, was recently interviewed for an episode of the Association for Education in Journalism and Mass Communication (AEJMC) Media and Culture podcast. "Public Interest Communications – A Conversation with Angela Bradbery" was posted on Oct. 17.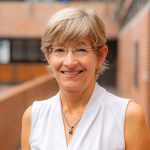 According to Bradbery, "In the podcast, I define public interest communications and discuss how the field evolved, how it intersects with other fields and how public interest communicators use strategic communications. I explain that we are building the academic field nationally and invite interested academics to get involved. I discuss with the host the notion of objectivity in journalism, exploring the idea that there is no such thing, how the concept objectivity in journalism has changed over the years and what that means for public interest communicators. "
The Media and Culture podcast was created by the AEJMC Cultural and Critical Studies Division to highlight timely scholarship in the field of Cultural Studies. It features the work of division members who study, teach, and write about mass media and culture through a critical, multicultural lens.
Posted: October 20, 2022
Category: College News
Tagged as: Angela Bradbery, Frank Karel Chair in Public Interest Communications