Clay Calvert Will Speak on the Role of the First Amendment and Hate Speech on College Campuses
Clay Calvert, director of the Marion B. Brechner First Amendment Project and Brechner Eminent Scholar in Mass Communication at the University of Florida College of Journalism and Communications, will be the featured speaker for the University of Alabama at Birmingham's (UAB) "Critical Conversations: Community Civic Dialogue Forum."  The virtual presentation, "Extremism: Understanding the Role of the First Amendment and Dealing with Hate Speech on College Campuses" will be Oct. 20 at 7 p.m.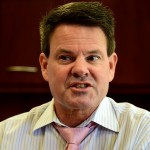 Universities are tasked with honoring free speech rights of individuals while attempting to create environments of inclusion and support. Often these efforts seem contradictory when speakers expose ideas that are in conflict with inclusion efforts. Calvert will address these issues and the role of the First Amendment on college campuses and how universities should react to unwanted speakers coming to their campus.
The forum is a platform for students, faculty, staff, and local citizens outside of UAB to come together and discuss topics ranging from current events and pop culture to social commentary and how these issues intersect and affect daily life.
Posted: October 17, 2022
Category: College News, Marion B. Brechner First Amendment Project News
Tagged as: Clay Calvert, Marion B. Brechner First Amendment Project