Moni Basu Conducts Workshop and Offers Tips for a Successful Writer-Editor Relationship
Moni Basu, University of Florida College of Journalism and Communications Michael and Linda Connelly Lecturer for Narrative Nonfiction, was a co-presenter for "The Perfect Writer-Editor Relationship," a workshop at Fortellings Kraft 2022, the leading conference in narrative journalism, held at Kulturhuset in Bergen, Norway from Sept. 21-23.
Basu and her former editor Jan Winburn led a full-day workshop on how to coach narrative writing. The team also made a presentation entitled "A Delicate Dance: A Story of a Writer and Editor's Relationship Spanning 18 Years, in Print, Online and On Air."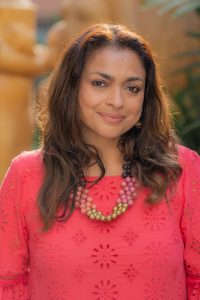 They deconstructed their relationship of nearly two decades through the prism of their narrative stories, illuminating the contributions of both roles in successful storytelling. They examined early collaborations when they barely knew each other and were working from different continents and with different lexicons, and they explored risky and ethically fraught narratives that could have ended their work together.
The team was also featured in "What Reporters Need from Editors and Editors Need from Reporters" published on NeimanStoryboard on Sept. 29. The story chronicles what each needed in a successful partnership to create a story that has potential beyond the easy and the obvious.
Basu and Winburn have told narrative stories together for nearly two decades. Their collaboration spans all platforms – from print to online to television. Together at CNN Digital, they worked on award-winning multimedia narratives, and Basu's reporting and storytelling also was featured on TV. The two are at work on a book about the writer's and editor's roles in narrative nonfiction.
Posted: October 3, 2022
Category: College News
Tagged as: Moni Basu