Clay Calvert Comments on First Amendment Free Speech Violation
Clay Calvert, director of the Marion B. Brechner First Amendment Project and Brechner Eminent Scholar in Mass Communication at the University of Florida College of Journalism and Communications, is quoted in "Hillsborough Transit Agency Fights a First Amendment Lawsuit in U.S. Court. Why?" published in the Tampa Bay Business Journal on Sept. 26.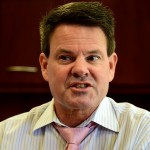 The story focuses on Young Israel of Tampa vs. Hillsborough Area Transit Authority. The district court ruled for the plaintiff, Young Israel, and against the Hillsborough Area Transit Authority (HART), saying that HART violated the free speech clause in the First Amendment when religious bus advertising was denied. Now HART is appealing that ruling to the U.S. Court of Appeals for the Eleventh Court.
According to Calvert, going to court again carries a financial risk for HART. The district court has already ordered the transit agency to pay $40,000 in damages to the synagogue.
"If Young Israel of Tampa ultimately prevails on appeal here … it's a violation of civil rights," said Calvert. "Then HART's going to have to pay their attorney's fees and reasonable costs because you're discriminating against a constitutionally protected right. … It could end up costing HART a lot of money. It's hard to predict how much the attorneys representing Young Israel of Tampa are charging for this. Some may see this case as a way to get the 11th Circuit to rule on the issue for the first time."
Posted: September 27, 2022
Category: College News, Marion B. Brechner First Amendment Project News
Tagged as: Clay Calvert, Marion B. Brechner First Amendment Project