Clay Calvert Comments on Rap Music Lyrics, Criminal Prosecutions and First Amendment Protections
Clay Calvert, director of the Marion B. Brechner First Amendment Project and Brechner Eminent Scholar in Mass Communication at the University of Florida College of Journalism and Communications, is interviewed in "Sidebar: Rap Lyrics, Criminal Prosecutions and the First Amendment" an episode of the Courthouse News podcast posted on Sept. 13.
The podcast examines the right to free speech versus the pursuit of justice. In courtrooms across the country, prosecutors are going after rappers using the artists' lyrics against them.
In the episode, First Amendment experts and artists discuss if protections for the right to freedom of speech end under the First Amendment and why rap music and Black artists seem to be the target of these prosecutions when artists in other genres tell similar tales of crime and violence.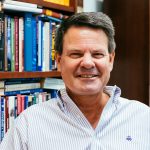 According to Calvert, "The fact that any form of artistic expression that is protected by the First Amendment could be twisted and turned against an artist is highly problematic, especially in a criminal setting. We all think about what is art, and it's so subjective, but the First Amendment doesn't just protect highbrow art, it protects all forms of art. It says Congress shall make no law abridging the freedom of speech. It doesn't say good or bad speech or highbrow or lowbrow speech."
"I think prosecutors will try to exploit whatever advantage they can. Some will pursue getting lyrics admitted as evidence while other prosecutors would not do so. There probably are a few out there who indeed will try to prey on the prejudices of jurors and exploit their prejudices against rap music," said Calvert.
He adds, "Scholars who specialize in musicology can be useful to juries in trying to educate them about the narrative conventions of rap music. Experts in rap music play a very important part in trying to educate jurors who might not understand rap music. The vast majority of what they hear is not to be taken literally."
Posted: September 16, 2022
Category: College News, Marion B. Brechner First Amendment Project News
Tagged as: Clay Calvert, Marion B. Bre