Clay Calvert Offers Advice for College Students Seeking Recommendation Letters
Clay Calvert, director of the Marion B. Brechner First Amendment Project and Brechner Eminent Scholar in Mass Communication at the University of Florida College of Journalism and Communications, is the author of the guest column "For Many Professors, Fall is the Season for Writing Letters of Recommendation" published in The Gainesville Sun on Sept. 14.
Calvert comments on the task of writing recommendation letters for undergraduate students aspiring to apply for graduate and professional programs.
According to Calvert, "There is of course, no mandate – not yet, at least – that we pen these missives on behalf of students. We're not paid by the letter, as it were, and if we didn't write any at all, there'd likely be no negative repercussions in our annual reviews."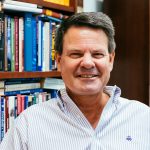 "Yet, writing letters can prove to be one of the most personally gratifying, albeit implicit and unspoken, parts of the job," writes Calvert. "That is especially true when they are done for students who stand out from the pack for any one of many reasons, stretching from stellar grades to hard work and determined diligence, and from overcoming hardships and obstacles to outstanding in-class participation."
He offers advice for in-coming first-year students to make sure they leave a positive impression on their professors. Students should get to know at least three full-time professors reasonably well by the end of their junior year. He suggests volunteering to assist professors with their research and writing projects, attending office hours and asking informed questions to demonstrate they have a grasp of the class material, participating during in-class discussions, and consider becoming undergraduate teaching assistants.
"The reward for professors in writing recommendation letters isn't reflected in paychecks," writes Calvert. "Rather, it arrives in the form of unsolicited, out-of-the-blue emails from former students who now are in graduate school and who write to let you know about their accomplishments and career plans or to ask you for further advice."
Posted: September 14, 2022
Category: College News, Marion B. Brechner First Amendment Project News
Tagged as: Clay Calvert, Marion B. Brechner First Amendment Project